Do you know what MPlayerplus_01 is?
As one would expect from such an application MPlayerplus_01 is an adware extension that can be installed on Internet Explorer, Mozilla Firefox and Google Chrome web browsers. The main reason why MPlayerplus_01 gets installed on your computer is money. Adware may not be computer malware, but these software applications are developed in order to generate financial revenue to its creators. Hence, MPlayerplus_01 is of no exception, and if you do not want to be part of this easy money making scheme, you will do good to remove MPlayerplus_01 from your browser and your computer.
MPlayerplus_01 is created by Freeven and it is directly related to Ads by Freeven Pro 1.4 adware application. Based on our security research, this application is also a clone of MediaPlayerEnhance browser extension. To put it simply, MPlayerplus_01 is marketed as a useful browser add-on that can improve your media player and enhance online video quality. However, the question is whether users really want this application installed on their computers.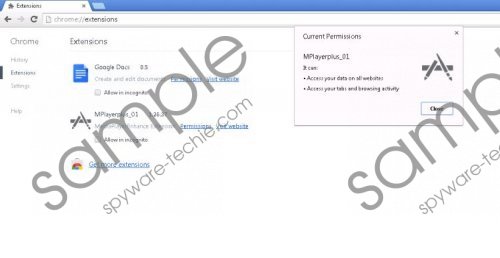 MPlayerplus_01 screenshot
Scroll down for full removal instructions
The disturbing fact is that MPlayerplus_01 can get installed on target systems silently. In other words – it does not display any kind of prompt before the installation takes place. What is more, it does not have a direct download page, so it always comes bundled with freeware applications and user might not even realize that he/she has installed MPlayerplus_01 until this application starts displaying commercial pop-ups.
In our case, MPlayerplus_01 was bundled with NewPlayer bundle that users can download when they click new media player pop-ups on random commercial websites. It might also come along via Fake Java installer and Fortunitas adware. Take note, that when you install a freeware application it is very likely that there is more than just one additional extension or plug-in included in its setup. For example, with MPlayerplus_01 you are very likely to install Re-Markit, Severe Weather Alerts, MyPcBackup, Search Protect and other unwanted applications.
Although none of these apps (MPlayerplus_01 included) are direct computer security threats, you are strongly recommended to remove MPlayerplus_01 and other applications from the system at once. A system overloaded with adware applications can become really slow, and your browsing sessions will be always interrupted by a huge amount of pop-ups and other types of commercial advertisements. Do not forget that adware and pop-ups might expose you to corrupted websites and dangerous content that may compromise your system even further.
To avoid any potentially computer security risks and protect your system from harm, remove MPlayerplus_01 immediately and then scan the PC with SpyHunter free scanner to detect any other potential threats. Do all you can to safeguard the PC from dangerous intruders, and in please note the second set of manual removal instructions below this description, in case the first set does not for work you.
Manual MPlayerplus_01 Removal
Windows 8
Slide mouse cursor to the bottom right of your desktop.
When Charm bar appears click Settings and go to Control Panel.
Open Uninstall a program and remove MPlayerplus_01.
Windows Vista & Windows 7
Click Start menu and go to Control panel.
Open Uninstall a program and remove MPlayerplus_01.
Windows XP
Open Start menu and navigate to Control Panel.
Select Add or remove programs and uninstall MPlayerplus_01.
In non-techie terms:
MPlayerplus_01 is a potentially dangerous program that can flood you with annoying pop-ups and redirect you to corrupted websites. You need to remove MPlayerplus_01 if you want to avoid various computer security-related threats.