Do you know what MoviesTabSearch.com is?
If you have noticed unauthorized changes within your web browser, it is a strong indication that a browser hijacker is fully running on your personal computer. One such hijacker goes by the name of MoviesTabSearch.com and has been quite active. If you ever find this piece of suspicious software fully active on your PC, make sure to remove it as soon as possible since keeping it on your PC will only cause annoyance and frustration. In fact, surfing the web the way you are used to while this browser hijacker is fully active on your computer will be virtually impossible. If such intrusive functionality was not enough, you should be aware of the fact that this browser hijacker might be the main reason other suspicious programs are fully running on your personal computer. Do not take chances with MoviesTabSearch.com as it is a virtual threat; make sure to conduct its complete removal by following instructions that we present below.
The MoviesTabSearch.com functions in a rather basic way; meaning that its overall model of working is not that different from other programs that are a part of this category. As soon as it enters your personal computer, your web browser will be embedded with a questionable third-party extension. This browser plug-in is an essential part of this unwanted program. That is so because it triggers all the unwanted changes within your web browser's settings. This intrusive piece of software will alter your default search engine and home page. One of the most annoying things about such functionality is the fact that you will not be informed about any of the changes taking place. It goes without saying that such modifications will have a negative effect on the way you experience the web. Due to this hijacker you will have little to no choice at all but to use a dubious third-party website as your default home page even though did not assign it yourself. In regards to the search engine, the same thing will happen. For as long as MoviesTabSearch.com is up and running on your personal computer you will not be able to search the web with a search engine of your choice. This is so because you will be forced to use a new one, whether you like it or not. It is important to highlight the fact that only a complete removal of MoviesTabSearch.com will restore your web browser's default settings.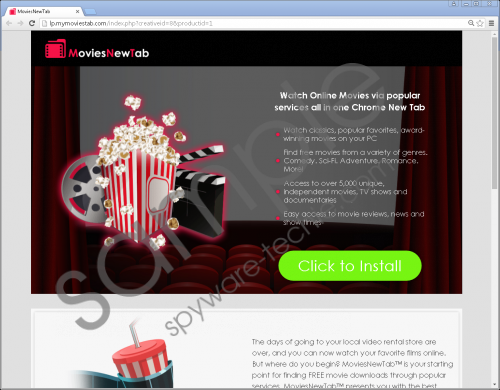 MoviesTabSearch.com screenshot
Scroll down for full removal instructions
Upon a deeper investigation of MoviesTabSearch.com, it has been found out that in some cases this devious application could act in a potentially malicious way. As it turns out, the search engine presented to you by this browser hijacker might provide you with modified search results. This means that in some cases a seemingly harmless search result could be embedded with a redirect link. While not all redirect links are malicious, you must know that in some cases clicking on a search result hosting such a link could lead you to suspicious third-party sites. For example, you might end up on a third-party download site, which might prove to be hosting malicious software. In other cases, you could be taken to a site that runs an arbitrary code execution exploit, meaning that just entering such a web page is more than enough to infect your personal computer with some unknown malware. It should be quite obvious that MoviesTabSearch.com is a virtual threat that should not be tolerated under any circumstances; follow the removal instructions below and get rid of it once and for all.
Even though the removal procedure might seem relatively simple, you should know that an in-depth analysis for potential leftovers linked MoviesTabSearch.com is a must. This is critical since leftovers of this hijacker could be used in devious ways. For instance, MoviesTabSearch.com might get restored without any notification. In other cases, just a few traces of it could be more than enough for it to continue its invasive functionality. To minimize the risk of an incomplete removal make sure to follow our instructions with extra care because often a missed step could be the reason your web browser default settings are still altered.
How to remove MoviesTabSearch.com from your computer
Open your web browser.
Click the Menu button.
Select Settings and then click Extensions.
Click the Recycle Bin icon next to the MoviesTabSearch.com extension.
In non-techie terms:
If you think that manual removal and analysis of your personal computer is too challenging, do not worry. You can completely remove MoviesTabSearch.com in an automatic manner by following the alternative instructions that we present below.