Do you know what MoviesFanatic.com is?
MoviesFanatic.com is a suspicious search engine developed by Aztec Media. Computer users usually notice that it has appeared on their Internet Explorer, Google Chrome or Mozilla Firefox when some kind of threat enters the system. In most cases, this threat is a browser hijacker. It is very important to remove MoviesFanatic.com and set another more reliable search engine because MoviesFanatic.com might cause security-related problems. It is impossible to remove it via Control Panel, so many computer users find it difficult to do that. Do not worry; our experienced researchers know how to get rid of MoviesFanatic.com easily and quickly. They will explain you how to do that in this article.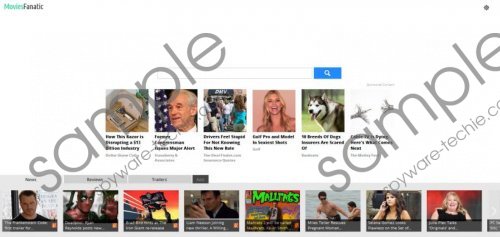 MoviesFanatic.com screenshot
Scroll down for full removal instructions
Even though MoviesFanatic.com looks like a powerful search engine, you should still not use it because this search engine might provide you with sponsored links and advertisements. You might end up on corrupted websites after clicking on them and thus infect your system with malicious software. There is also a slight possibility that MoviesFanatic.com will record your search queries in order to provide you with sponsored content. As can be seen, MoviesFanatic.com is not the most reliable search engine, so you should remove it despite the fact that it enables you to check reviews, watch trailers, and read celebrity news.
If you have noticed that MoviesFanatic.com has replaced your homepage and search provider, there is basically no doubt that other undesirable programs, e.g. Shop Time, PathMaxx, Super Optimizer, and HealthcareGovTool have been installed on your system as well. Unfortunately, all the aforementioned programs are untrustworthy and it is very important to remove them all from the system. If you want to protect your PC from suspicious programs and do not want to experience the unauthorized changes again, you should install an antimalware tool and keep it enabled all the time. Only a reliable tool can help you to prevent malware from entering.
You can get rid of MoviesFanatic.com by resetting your Internet Explorer, Google Chrome, and Mozilla Firefox. You will find the instructions that will help you to do that below this article. If you do not think that you can get rid of MoviesFanatic.com yourself, you can use an antimalware tool for this matter. We recommend using SpyHunter because we know that it will remove this suspicious search engine for you.
Remove MoviesFanatic.com
Internet Explorer
Launch your browser.
Tap Alt+T and select Internet Options.
Click on the Advanced tab and click Reset.
Put a tick next to Delete personal settings.
Click Reset.
Mozilla Firefox
Launch your browser.
Tap Alt+H and select Troubleshooting information.
Click Reset Firefox (or Refresh Firefox).
Click on this button again in the dialog box.
Google Chrome
Open your browser.
Tap Alt+F and select Settings.
Click Show advanced settings.
Click Reset browser settings.
Confirm the reset by clicking the Reset button.
In non-techie terms:
It is not enough to remove MoviesFanatic.com from the system. You also have to take care of other undesirable programs that are, probably, installed on your system. In order to find out whether they are really present, you should scan your system with a trustworthy diagnostic scanner.