Do you know what Movies123 Ads is?
Movies123 Ads is advertising content that might be seen if you agree to add a tool available on 123movies.com to your browser. This tool is a search engine that claims to be able to provide free movies. However, our computer security specialists report that it could show questionable advertising content that might be potentially dangerous. Therefore, it is not a surprise the application was categorized as a potentially unwanted program. To learn more about it, you should have a look at the rest of this report. In case you decide to get rid of Movies123 Ads manually, we recommend checking our removal guide available at the end of the main text. Of course, if the task seems complicated, it might be best to leave it to a reputable antimalware tool of your preferences.
Movies123 Ads was available on 123movies.com, although the page does not load at the moment of writing. Nevertheless, we do not think it is the only way this potentially unwanted program could be distributed. Our computer security specialists believe that same as other similar applications from this category, the tool could be distributed via pop-up advertisements, bundled software installers, and so on. In which case, users could receive it after downloading installers from unreliable file-sharing websites or clicking suspicious pop-up ads. For instance, the ads offering Movies123 Ads could claim the program can provide free movies or TV content. If you do not want to end up downloading more potentially unwanted programs, adware, browser hijackers, or software alike, we advise staying away from unreliable file-sharing websites. Besides, you should never click pop-ups or notifications urging or encouraging you to install unknown freeware applications. For extra protection, we advise getting a reputable antimalware tool.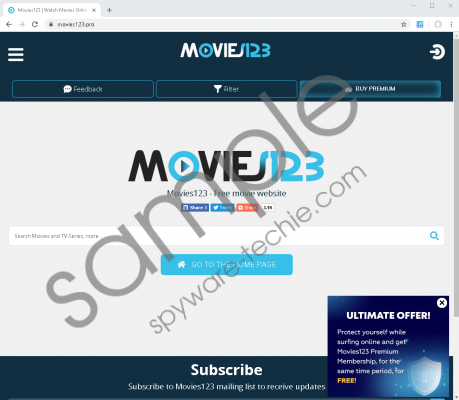 Movies123 Ads screenshot
Scroll down for full removal instructions
Movies123 Ads comes with a search engine that ought to be called movies123.pro. What you ought to know about is that it could show you advertising content coming from unknown third parties. Thus, it is possible that some of it could advertise sites offering adware or other untrustworthy applications, websites encouraging to participate in fake surveys or lotteries, and so on. If you fear you might come across such material, we advise not to take any chances and look for a more reliable search engine. To get rid of Movies123 Ads and its search engine (movies123.pro) manually, our computer security specialists advise resetting your browser. Also, users should know that once the potentially unwanted program enters a system, it may ask for permission to show user notifications. To stop these notifications, it is essential to delete the given consent. The removal guide provided below can help you both reset your browser and get rid of unwanted notification permissions.
On the other hand, if you find our provided removal instructions a bit too challenging, you could employ a reputable antimalware tool instead. Lastly, if you need more help or have any questions about Movies123 Ads, we encourage you to leave us a comment a bit below the removal guide.
Erase Movies123 Ads
Mozilla Firefox
Open the browser.
Insert about:preferences#privacy into the address bar and press Enter.
The application should load Privacy & Security settings.
Scroll below till you find Permissions options.
Find Notifications and press the Settings button next to it.
Find the permission for 123movies.com:443.
Select it and press the Remove Website button.
Click Save Changes.
Exit the settings tab and restart the browser.
Google Chrome
Launch the browser.
Insert chrome://settings/content/notifications into the address bar and click Enter.
The browser should open the Notifications settings page.
Check the list under Allow and find 123movies.com:443.
Click the three-dot icon next to 123movies.com:443 and select Remove.
Exit the Notifications settings and relaunch the browser.
Reset your browser
Mozilla Firefox
Press the Help icon.
Select Troubleshooting information.
Click on Refresh Firefox.
Press Refresh Firefox again and click Finish.
Google Chrome
Press Alt+F.
Select Settings and slide down.
Click on Advanced.
Scroll down again and select Restore settings to their original defaults.
Press the Reset button.
In non-techie terms:
Movies123 Ads is a potentially unwanted program that provides a questionable search engine and may show untrustworthy third-party advertising. It is not considered to be malicious itself, but keep in mind that the advertising content it might provide could come from unknown sources and so might be potentially dangerous. Since the application claims to be able to offer free movies, it is believed it could be spread with advertisements providing tools for online streaming. If this is how you received this potentially unwanted program, we advise you to be more cautious next time and to refuse suspicious software offered on file-sharing sites, pop-ups, and other doubtful sources. In order to delete Movies123 Ads manually, you may have to complete the steps listed in the removal guide available above this paragraph. The other way to deal with this application is to employ a reputable antimalware tool, perform a full system scan, and click its displayed removal button.