Do you know what Movies Tab Plus is?
If you ever encounter an application that goes by the name of Movies Tab Plus, we highly advise you to bypass it at all times. In case that this dubious piece of software is already active on your PC, make sure to execute its complete removal right away. Malware researchers at Spyware-Techie.com have categorized this devious application as one more potentially unwanted program. Such classification has been made because it can make undesirable changes to your browser's default settings without any authorization. In turn, your online experiences will become annoying and frustrating, to put it lightly. If you wish to learn more about the dubious functionality of this potentially unwanted program, make sure to read this detailed report. Besides such information, you will also find a few virtual security recommendations and a comprehensive removal guide, which you should use to delete Movies Tab Plus once and for all.
In the majority of cases, users obtain Movies Tab Plus because it of the way its developers advertise it; on its official website this program is marketed as a tool that should present you with access to your favorite movies in your web browser. Even though it might seem like a useful application, it is crucial to highlight the fact that it functions in an intrusive way. Right after it gains access to your operating system, it installs a questionable third-party extension to your browser. The devious plug-in is used to make invasive changes to your browser's default settings. The potentially unwanted program alters your default homepage and search engine without your consent, which is bothersome. Due to such activity surfing the web the way you like, will no longer be possible. That is so because you will no longer have access to your default homepage since you will be forced to use a questionable site instead. Virtually the same thing will happen in regards to your default search engine. For as long as this devious program will be active on your PC you will have to use a suspicious third-party search engine for all of your online queries. What causes, even more, annoyance is the fact that this search provider can present you with quite a few sponsored results, which might not be related to your original query. By now it should be self-evident that you must remove Movies Tab Plus without any hesitation. If you do not terminate this dubious program, the invasive changes will continue to bother you.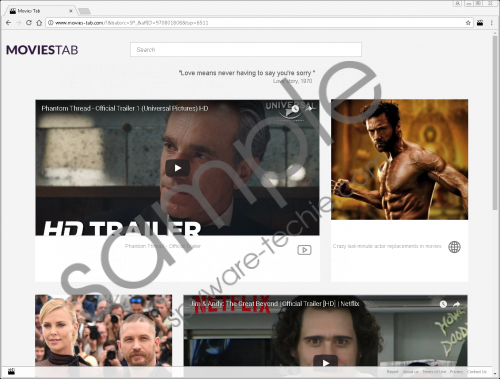 Movies Tab Plus screenshot
Scroll down for full removal instructions
If you want to maintain a fully secure operating system at all times, you must take steps to improve your virtual security. Firstly, our malware experts advise you to practice various safe browsing habits. It is critical to stay away from questionable download web pages because they are notorious for being the primary source of bundled installers. Such setup files are dangerous because they are filled with all sorts of dubious software. Also, you should be extra careful during every installation procedure. Read everything that is presented to you during the setup process since you could be provided with an opportunity to cancel the installation of some dubious application. Furthermore, you must be aware of the fact that malware developers tend to use misleading marketing techniques to trick unsuspecting Internet users into acquiring their suspicious programs without understanding how they actually work. Last, but not least, our malware experts recommend investing in a licensed antimalware tool if you do not have one already. It is important to do so because such a tool is designed to identify and delete virtual threats before they can do any harm. By taking these simple preventative steps, you will make your operating system virtually unbreakable.
It goes without saying that you must not delay the removal of Movies Tab Plus since there are no good reasons to keep it active on your PC. It is imperative to delete every single bit of this potentially unwanted program to regain your browser's default settings. We recommend double-checking your operating system for traces associated with Movies Tab Plus since its traces could work deviously. For example, some leftovers might be enough for the invasive changes to remain intact. In other situations, those same traces could be used for a restoration procedure of this potentially unwanted program. Thus, the analysis for potential traces linked to Movies Tab Plus will ensure you that the removal process has been successful.
How to remove Movies Tab Plus from your PC
Open the File Explorer.
Remove the folder called eoipicehnkjpalckbmmdiodjpallceli form the following directories:
a) C:\Users\(your username)\AppData\Local\Google\Chrome\User Data\Default\Extensions.
b) C:\Users\(your username)\Local Settings\Application Data\Google\Chrome\User Data\Default\Extensions.
c) C:\Users\(your username)\AppData\Local\Google\Chrome\User Data\Default\Sync Extension Settings.
d) C:\Users\(your username)\Local Settings\Application Data\Google\Chrome\User Data\Default.
Close the File Explorer.
Right-click your Recycle Bin and then select the Empty Recycle Bin option.
In non-techie terms:
Do not worry if you find manual removal too complex. Researchers at internal labs have crafted an alternative removal guide. Follow the instructions that we present below to delete every single bit of this potentially unwanted program automatically.