Do you know what Movie Quest is?
Movie Quest is a clone of Movie-Hub, and both of these extensions are classified as potentially unwanted programs. Why is that so? First and foremost, they do not offer exclusive or beneficial services. Second, they might be concealing unwanted and unreliable services behind an allegedly beneficial service. Though the add-on is not classified as a serious infection, you have to treat it as a potential threat to your virtual security. If you think you know all there is to know about this PUP, you can probably move to the removal instructions posted below. However, if you are not familiar with it, or you do not understand at all why its elimination is recommended, you should continue reading this article. You will find out why and how to delete Movie Quest from Mozilla Firefox and Google Chrome browsers.
If you were shown a pop-up representing the installer of Movie Quest after being redirected to an unfamiliar page, it should be obvious that the app is not reliable. Unfortunately, some users are careless, and they install software just because it looks genuine and useful. If you are not careful, you might end up installing much more serious infections, such as ransomware and Trojan downloaders. You also have to be cautious about software bundles represented via unreliable sites because those can be controlled by malicious software distributors. In case you have downloaded Movie Quest along with other programs, please inspect them to make sure they are harmless. If they are not, remove them at once. Hopefully, you have downloaded this suspicious extension from search.movie-quest.co (for Firefox) or chrome.google.com/webstore/detail/movie-quest/ioiaodadkedcpgjlelgiecpejhbcibdl (for Chrome), and you do not need to worry about any additional threats.
Did you install Movie Quest to help you find movie-related information? Considering that the web is full of sites that can provide you with more useful and extensive information, there is no point in installing this extension because it does not compare. Of course, that is not an important reason to delete this add-on. We recommend getting rid of it because it can modify your search settings and change the content you see when you visit websites. It is unclear what exactly Movie Quest could do, but that is what you permit it when you install it. Tracking cookies are likely to be placed as well, and those could potentially record information that is sensitive or that you do not want to share with unknown third parties. Due to this, once you get rid of the extension, we also recommend getting rid of the cookies.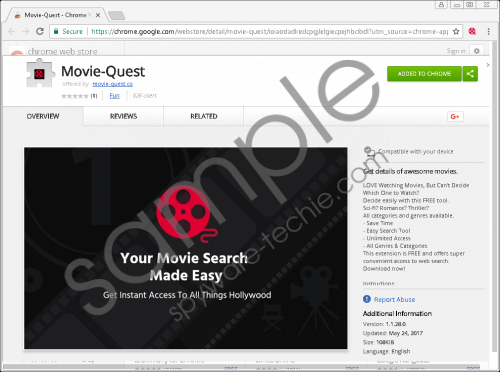 Movie Quest screenshot
Scroll down for full removal instructions
Movie Quest is not a complex piece of software, and it is not hard to delete it from the browsers. In fact, you only need to delete the extension, and if you are not familiar with this task, we have added a guide that will help. We have also added instructions that show how to eliminate cookies. Needless to say, if malicious programs or other PUPs continue running on your PC after you remove Movie Quest, it might be time for you to invest in trustworthy anti-malware software. Besides providing you with full-time protection, that you, of course, need, it also can automatically erase threats that already exist. If you are not sure about how you should proceed, leave a comment below, and we will try to assist you ASAP.
Delete Movie Quest
Mozilla Firefox
Launch Mozilla Firefox.
Tap Ctrl+Shift+A (opens Add-ons Manager).
Move to the Extensions menu.
Remove the unwanted extension.
Tap Ctrl+Shift+Delete (opens Clear All History).
Select the desired time range.
Mark the box representing cookies.
Click Clear Now.
Google Chrome
Launch Google Chrome.
Tap Alt+F to open the Chrome menu.
Select More tools and then Extensions.
Click the trash bin next to the add-on.
Select Remove.
Tap Ctrl+Shift+Delete (opens Clear browsing data).
Select the desired time range.
Mark the box representing cookies.
Click CLEAR BROWSING DATA.
In non-techie terms:
Theoretically, Movie Quest is a great program. In reality, it is not all that great, and it appears that this potentially unwanted program also could spy on you and collect information about you. According to our research team, it could even showcase third-party links, which, unfortunately, could be risky. Removing Movie Quest is not a difficult feat, and you should handle it even if you have no experience eliminating unwanted add-ons. We have even added the instructions you need to follow, and so there is no reason to postpone this. Of course, if you discover more serious threats and decide to employ anti-malware software, you do not need to worry about the PUP as it should be eliminated automatically.