Do you know what MoshouInput is?
MoshouInput is a rather disrupting application that might put your virtual security at risk by displaying potentially unreliable third-party ads. Since this application may also pose an indirect threat by entering your computer along with malware programs, our researchers have labeled it as a potentially unwanted program, or PUP. It is important to understand that while most people may consider PUPs as innocent and harmless, these infections can also pose a threat even if an indirect one. We believe that it is best for you to remove MoshouInput if you want to keep your computer clean and secure. However, it may not be enough for perfect safety because there may be other threats as well. Please read our full report if you want to find out about the risks and how you can avoid them.
The most common way to get infected by this questionable PUP is to download it in a bundle. Since this is a Chinese application actually, it is most likely that you find it in Chinese bundles. Unfortunately, there are no language barriers when it comes to malicious software installers and PUPs. Therefore, it is possible that you find that these bundles are packed with a number of adware apps, browser hijackers, on top of MoshouInput. Downloading and installing a malicious bundle could cause a lot of headaches for you to say the least. In order to protect your computer from such packages, you should stay away from suspicious websites and clicking on third-party ads. Most users get their computer infected when they end up on questionable file-sharing and gaming sites, for example, and they click on fake download buttons and links. If this may sound like your case, you should not hesitate to delete MoshouInput and all other related infections as well if you want to use a secure computer.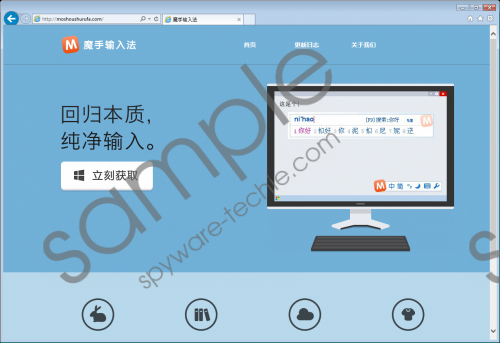 MoshouInput screenshot
Scroll down for full removal instructions
The official website of this PUP can be found at moshoushurufa.com. Since this is a Chinese website, there is little chance that you actually ended up on it unless you do speak the language. We always emphasize that you should stick with official and reputable sites when it comes to downloading software. But, of course, it also means that you should run a web search first on the application of your interest to make sure that it is worth downloading and installing at all. You need to understand that cyber criminals create fake promotional sites at the speed of mushrooms growing in a forest. Therefore, the web is filled with malicious webpages looking all professional and you must avoid these if you do not want more trouble.
MoshouInput offers you the possibility for Pinyin input on your computer. Unfortunately, this application can show occasional third-party ads, such as commercials and website promotions in the lower-right corner of your screen as well as right in the middle. This is very annoying and these ads are quite persistent, too. You cannot simply close them or stop them from popping up; you need to end the process via Task Manager. In fact, this PUP starts up automatically with Windows, which makes it even more annoying and you exposed to potentially unreliable third-party content. If you click on corrupt ads, for example, you might be taken to malicious websites where you could download more infections or get scammed by criminals. That is why we suggest that you remove MoshouInput from your system.
Unfortunately, using the uninstaller of this PUP may not be the best solution if you want to eliminate it. You can try to do so but this uninstaller is in Chinese as well, which makes it a bit more complicated to know where to click and what it will result in. This is why we have also prepared a manual guide for you if you want to make sure that no mess remains on your system. If you want to protect your PC from similar attacks or more dangerous ones as well, we advise you to download and install a decent anti-malware program, such as SpyHunter or any of your choice. However, beware of the rogue security tools that the web is swarming with.
How to remove MoshouInput from Windows
Windows 8, Windows 8.1, and Windows 10
Press Win+X and choose Programs and Features.
Click on the application and press Uninstall.
Windows Vista and Windows 7
Press Win+R and type Control Panel. Click OK.
Select Uninstall a program.
Click on the application and press Uninstall.
Windows XP
Press Win+R and type Control Panel. Press OK.
Click Add or Remove Programs.
Click on the application and press Remove.
Manual Guide
Press Win+R and type taskmgr. Click OK.
Select the process called "monpimyin.exe" and click End task.
Exit the Task Manager.
Press Win+R and type regedit. Press OK.
Locate and delete the following registry keys:
HKLM|HKCU\Software\MoshouInput
HKLM\Software\Wow6432Node\MoshouInput (64-bit!)
HKLM\SOFTWARE\Classes\moshou.file
HKCU\Software\Microsoft\Windows\CurrentVersion\Run\monpimyin.exe
Close the registry editor.
Press Win+E to open File Explorer.
Delete the following folders:
%USERPROFILE%\AppData\LocalLow\MoshouInput
%USERPROFILE%\Application Data\MoshouInput (Windows XP)
%AppData%\MoshouInput
%ALLUSERSPROFILE%\Application Data\MoshouInput (Windows XP)
%ALLUSERSPROFILE%\MoshouInput
%PROGRAMFILES(x86)%\MoshouInput (64-bit!)
%PROGRAMFILES%\MoshouInput
Empty your Recycle Bin.
Reboot your system.
In non-techie terms:
MoshouInput is a potentially unwanted program from China that is supposed to provide you with support for Pinyin input method. Unfortunately, our researchers have found this application questionable and also potentially unreliable. This PUP can show you third-party advertisements, which is not only annoying but these ads might also be unreliable and harmful to click on. Most likely you do not want to infect your system with more threats and you also do not want to lose your money in a scam. Therefore, we suggest that you remove MoshouInput as soon as possible. In fact, it is quite possible that this PUP is not the only security issue you are facing because there may be malware infections on board as well. That is why we advise you to use a professional anti-malware program to clean your system and keep it protected.