Do you know what Mongo Search is?
Mongo Search is a search tool that offers nothing else but a search service. In most cases, Google Chrome users set the desired search providers without installing extensions, and so it is doubtful that this particular extension will gain traction. That being said, depending on how a specific tool is represented, people might be intrigued to try it out. After all, it costs nothing but a few moments to install this questionable extension. If you are currently thinking about installing it, please share with us what has led you to this conclusion. Are you interested in how this search tool works? Were you promised something else? Whatever the case might be, know that we identify it as a potentially unwanted program (PUP), and our recommendation is that you delete Mongo Search. If you have already decided on the removal of this extension, scroll down. If you want to learn more, keep reading.
Mongo Search can be downloaded by anyone from chrome.google.com/webstore/detail/mongo-search/ecjbnkfehhlhffkkilabejlaldpgfffc. Most Chrome users are likely to be familiar with the Web Store, and they might automatically assume that the extension is beneficial and reliable. In reality, its description is pretty vague, and it is not entirely clear what it is meant to offer. According to the promotional information, the extension can configure the default search on your browser, which basically means that it changes the default search in chrome://settings/searchEngines. You can easily add and delete search engines from this list on your own. You do not need an extension for that. The search tool that the PUP represents is browser.mongosearch.net, and if you wanted to, you could add it to the list and set it as the default search provider manually. But why would you do that? This search engine is certainly not superior to some of the more known and popular search engines. In fact, browser.mongosearch.net redirects to them.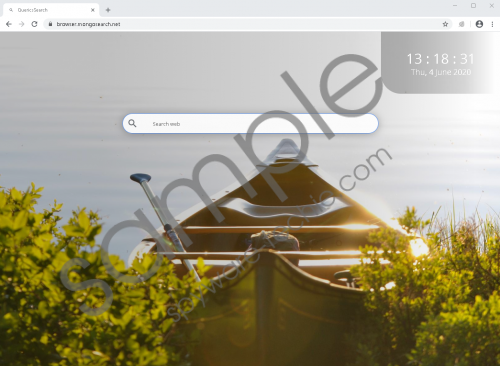 Mongo Search screenshot
Scroll down for full removal instructions
At the top of browser.mongosearch.net, you can see that it is named QuericsSearch, but the official name is Mongo Search. The interface of this webpage displays a search dialog box, and if you enter a keyword into this box, you are redirected to a third-party search engine. When we tested this PUP in our internal lab, it redirected to Yahoo Search and Google Search. Now, why would you need a third-party search tool to access these popular and respected search engines? You do not need it. Mongo Search can automatically redirect you to virtually any search engine, and that is a cause for concern. We are also concerned by the fact that this PUP works with third-party advertisers and can help them show advertisements. When we analyzed the PUP, it did not modify the shown search results to include ads, but there is no other platform to show them. Overall, if you do not want to be redirected to a different search engine every time, if you do not want to face ads from unknown parties, and if you do not want your browsing activity recorded, it is best if you delete the potentially unwanted program.
Follow the instructions below if you wish to remove Mongo Search manually. Do not skip the second part of the instructions that shows how to clear browsing data because that is how you can eliminate the cookies used by the PUP and its partners. Without a doubt, if you employ a legitimate malware scanner and discover that Mongo Search is not the only threat on your operating system, we recommend installing a legitimate anti-malware tool. It will automatically erase everything that needs it. On top of that, it will secure your system to keep PUPs and keep dangerous malware away in the future.
Delete Mongo Search from Google Chrome
Launch the browser.
Type chrome://extensions into the address bar and tap Enter.
Find the unwanted extension and click Remove next to it.
Type chrome://settings/clearBrowserData into the address bar and tap Enter.
In the Advanced menu, choose a time range and mark the boxes you want.
Click Clear data.
In non-techie terms:
Mongo Search does not promise amazing things. It does not offer amazing things. Therefore, we are surprised that people choose to install this extension. If you installed it by accident or because it came bundled with a more attractive tool, we suggest removing Mongo Search. In fact, even if you installed it purposefully, we suggest getting rid of it because all it can do is redirect you to third-party search engine, show ads, and collect information about your browsing activity. It certainly is not very helpful. If multiple threats exist, and if you care about your system's security in the future, we strongly advise installing reliable anti-malware software to perform automated removal. If all you care about is the PUP, you can follow the manual removal guide above.