Do you know what Monarch Find is?
Monarch Find is a program that promises to help you find the best deals. The program itself is based on the Injekt engine and it does not differ from other programs (e.g. Wander Burst, Gravity Space, Jungle Net, and Deals Avenue) based on this engine. It really seems that Monarch Find is a legitimate program, but the majority of users notice a bunch of commercial advertisements on their screens only after they install this program. Specialists say that Monarch Find not only generates intrusive advertisements and places them on different web pages, but also tracks users' browsing activity. You can put an end to this only by erasing Monarch Find from the system, so we suggest that you do not postpone the removal of this application.
It is known that Monarch Find will mainly generate shopping suggestions and pop-ups, but you might notice banners, in-text ads, and full-page ads on your screen too. It might seem that these web pages originate from the website (e.g. eBay or Amazon) you are surfing at that particular moment, but it is not true at all. It does not matter if you find these advertisements relevant because you should still not click on them. It is really risky to do that because this might result in the entrance of other malicious applications. What is more, our researchers have noticed that Monarch Find collects various non-personal details, including IP address, web pages visited, search queries, and the like. This information might seem completely unimportant but you should know that they are shared with third-parties later on to provide you with interesting commercials. In order to put an end to this, make sure that you remove Monarch Find from your system.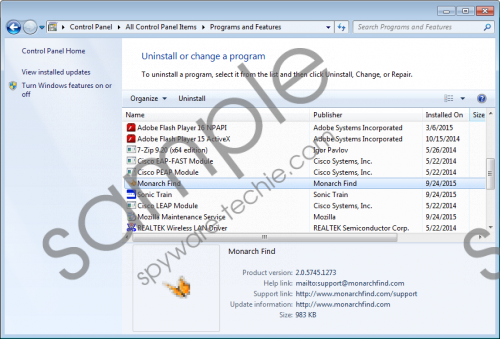 Monarch Find screenshot
Scroll down for full removal instructions
As has been mentioned above, there are hundreds of programs based on the Injekt engine, which means that you might encounter them in the future if you do not do anything to protect your system. It has been observed that these programs use various tactics to enter systems, so you might not even notice how and when this happens. Do not worry; it is possible to protect the system from malicious software. All you have to do is to install a security application on your PC. If you find it difficult to decide which tool to install, you should acquire SpyHunter. You will definitely not regret doing that.
Even though Monarch Find is a really suspicious program, you will remove it like any other program because it has an uninstall in Control Panel. Unfortunately, your system will still not be clean if you only erase Monarch Find. It is because other unwanted programs might be installed on your computer too.
How to delete Monarch Find
Windows XP
Click on the Start button.
Select Control Panel from the menu.
Click Add or Remove Programs.
Select the program and click Remove.
Windows 7 and Vista
Open the Start menu and click Control Panel.
Click Uninstall a program.
Right-click on Monarch Find and click Uninstall.
Windows 8/Windows 8.1/Windows 10
Launch RUN (Windows key + R).
Enter Control Panel in the Open box and click OK.
Click Uninstall a program.
Select the software you wish to erase.
Click Uninstall.
In non-techie terms:
Our instructions will only delete Monarch Find from your system. In order to eliminate all other threats very easily, you should scan your system with an automatic malware remover, such as SpyHunter. See below how to get it, but do not forget that you will have to upgrade it in order to erase infections from your PC.