Do you know what Mogera Ransomware is?
Mogera Ransomware encrypts files that could be important to a victim and places a ransom note saying decryption is only possible if the user pays for it. Thus, it is safe to say that receiving this malicious application could be extremely unpleasant. Not to mention, it could cause lots of problems for those who keep valuable data on their computers and do not have any backup copies of it. Making copies as an extra precaution is recommended for anyone who have files they do not want to lose, whether it would be work-related documents or family photos. However, even if you are not prepared and cannot restore your files after encountering Mogera Ransomware, we advise not to deal with the malware's developers. They may promise free decryption as a guarantee and other things to convince you to pay a ransom, but, in reality, you can never know if they are going to keep up to their promises. If you decide not to take any chances, we recommend erasing the malicious application with the removal guide available below or a trustworthy antimalware tool of your choice.
The malware comes from STOP Ransomware family, and like other malicious applications from there, it might travel with Spam emails, malicious installers, and other questionable content obtainable from the Internet. Knowing this, we always advise our readers being careful with files downloaded from unreliable sources. Scanning such data with a reputable antimalware tool is a must if you do not want to infect your computer and run files located on it accidentally. Meaning you should never open documents, setup files, or any other data coming from suspicious sources before checking it first. Especially, if files come from unknown senders, unreliable file-sharing web pages, etc.
After a system becomes infected with Mogera Ransomware, it should continue to work as usual. As you see, the malicious application should encrypt targeted files silently so the victim would not notice anything and try to stop the encryption process. During it, various archives, documents, photos, and files alike should become locked. All affected files can be recognized from a second extension called .mogera as it ought to appear at the end of each encrypted file's title. Finally, the malicious application ought to explain to a victim about what is going on by showing him a ransom note called _readme.txt. The message on it is supposed to tell how to contact the hackers who developed Mogera Ransomware and get instructions on how to pay a ransom of 980 US dollars. In exchange for putting up with all demands, the hackers promise to provide the malware's victims with decryption tools.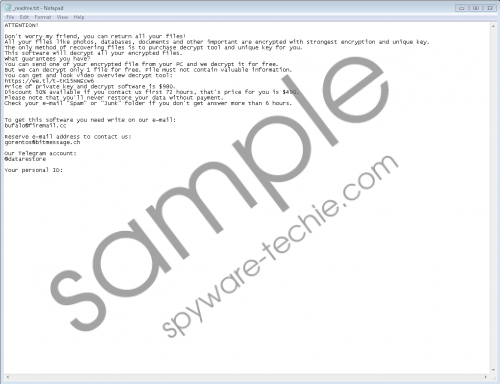 Mogera Ransomware screenshot
Scroll down for full removal instructions
Sadly, there are no guarantees the malicious application's developers will do as they promise, which is why we do not recommend putting up with their demands if you do not want to risk losing your money in vain. In such a case, you should ignore the note and erase Mogera Ransomware. To deal with it manually, you could follow the removal guide available at the end of this article. The other way to get rid of it is to employ a reputable antimalware tool. Once, the system is malware-free again, it should be safe to replace encrypted files with backup copies.
Erase Mogera Ransomware
Press Ctrl+Alt+Delete.
Pick Task Manager and check the Processes tab.
Locate a process belonging to the malware.
Choose the process and click End Task.
Exit Task Manager.
Click Windows Key+E.
Navigate to the suggested paths:
%TEMP%
%USERPROFILE%Desktop
%USERPROFILE%Downloads
Find a file opened when the device got infected, right-click the malicious file and select Delete.
Find these paths:
%USERPROFILE%\Local Settings\Application Data
%LOCALAPPDATA%
Look for folders with long random names, for example, 1ca91d72-6cc7-4119-a400-cy6a281365a6; right-click them and choose Delete.
Go to: %WINDIR%\System32\Tasks
Locate a file called Time Trigger Task, right-click it and choose Delete.
Exit File Explorer.
Tap Windows Key+R, type Regedit and choose OK.
Find this path: HKCU\Software\Microsoft\Windows\CurrentVersion\Run
Look for a value name that could be related to the malicious application, for example, SysHelper.
Right-click this value name and press Delete.
Close the Registry Editor.
Empty Recycle bin.
Restart the computer.
In non-techie terms:
Mogera Ransomware is a new ransomware application from the STOP Ransomware family. Consequently, it acts similarly to variants released before it. As explained in the main text, the threat takes user data as a hostage and shows a note asking to pay a ransom for its recovery. The message could even promise the user to decrypt one file free of charge as a guarantee it is possible. The problem is not that we do not think the hackers do not have needed decryption tools. Truth to be told, we doubt whether they will hold on to their end of the bargain or, in other words, send the promised decryption tools to the victim. If you fear you could get tricked, we advise not to contact the malware's developers. To get rid of the malicious application manually, you could follow the removal guide available below. Our computer security specialists say users could erase the threat with an antimalware tool too, so if you prefer it, we recommend scanning an infected computer with a reputable security tool of your choice.