Do you know what Mobura.com is?
Mobura.com is not your typical search engine; it is a browser hijacker that can cause you all kinds of trouble or at least inconvenience while you use it. Therefore, we highly recommend that you remove this infection from your computer in a timely manner. This hijacker was created with the sole purpose of making money as its search results are bound to include links to unreliable websites. This supposed search engine is always forced on users by malicious installers, which means that it changes the default homepage to Mobura.com. However, even as a search engine this hijacker fails to provide a quality service, so the sooner you get rid of it the better.
Before we go any further it is necessary to dissect this hijacker's origins. Our malware researchers have found that this browser hijacker was developed by Mobilemonetizer.net. Mobilemonetizer.net is exactly what its name says — a company that is in the business of mobile web monetization. However, this particular browser hijacker has not created for the mobile platform. It is a PC exclusive. Given the fact that it was developed by a web monetization company only reaffirms our claim that Mobura.com's only purpose is to generate advertizing revenue. It is also very important to mention that this hijacker's developers employ dishonest and deceptive tactics to distribute Mobura.com around the web. It is called software bundling and it is commonly used among malware developers to distribute their products that would otherwise have no users whatsoever. Software bundles containing Mobura.com can be found on a lot of software hosting websites, but they are bound to constantly change.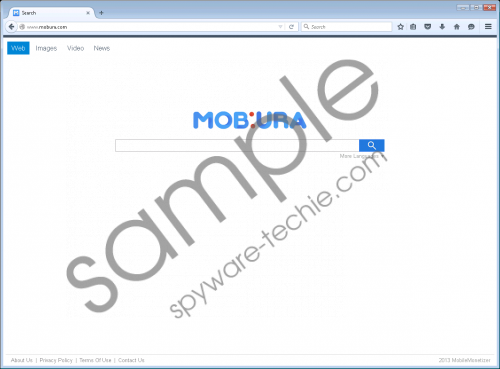 Mobura.com screenshot
Scroll down for full removal instructions
Mobura.com is considered a browser hijacker, because it is set as the default homepage without your knowledge or approval. Indeed, the software installers it comes bundled with inject modifications into your browser and thus this hijacker becomes the default homepage. Once active, Mobura.com will present promotional links and advertisements inside its search results. Needless to say that these kinds of additions only obstruct the browsing experience, because you are not getting the search results you hope to get. Furthermore, we are of the opinion that its search results are unreliable, because the injected promotional links may come from unreliable sources.
Our researchers say that currently this hijacker does not work at all. Attempting to use this hijacker/search engine will result in a message that says "Your search did not match any documents, or server error has occured." It may be that its developers are experiencing some technical difficulties that will be overcome soon, but regardless, Mobura.com will still remain a browser hijacker that you ought to delete.
Our researchers have found that this seemingly legitimate search engine is actually a browser hijacker. As far as we know you might get it by installing malicious software bundles. Once installed, Mobura.com becomes the default homepage that users start using as a search engine. However, its search results include promotional links unknown legitimacy. Furthermore, this hijacker's search function may not even work. Removing Mobura.com is an obvious decision, so do not hesitate and go for it.
Remove Mobura.com from your browser
Microsoft Internet Explorer
Launch the browser.
Press Alt+T and open Internet Options.
Open the Advanced tab and click Reset.
Select the checkbox.
Click Reset.
Close.
Google Chrome
Launch the browser.
Press Alt+F and open Settings.
Select Show advanced settings.
Click Reset settings.
Reset.
Mozilla Firefox
Launch the browser.
Press Alt+H.
Select Troubleshooting Information.
Click Refresh Firefox.
And, click Refresh Firefox again.
Finish.
In non-techie terms:
Mobura.com is definitely not a search engine. Our researchers have classified as a browser hijacker that is set to silently enter your computer with the use of malicious installers. Once it enters your computer, it will be set as the default homepage. Using it as a search engine is not recommended as its search results feature promotional links that may redirect you to unreliable websites. So be sure to remove it infection as soon as you can.