Do you know what Mobsearches.com is?
A program that goes by the name of Mobsearches.com should not be active on your PC at any time. If you happen to already have it active on your operating system, make sure to execute its complete removal right away. We recommend doing so because this program has been classified as a browser hijacker. Such classification has been made due to the intrusive functionality of this application. Like its counterparts it is fully capable of changing your web browser's default settings without any notification or authorization. While this is primarily annoying, you should also know that in some instances this browser hijacker could prove to be the main reason other questionable and even potentially malicious programs might enter your operating system without a lot of trouble. In this report, you will find further information about the inner workings of Mobsearches.com along with its detailed removal guide.
During the in-depth analysis of Mobsearches.com malware experts working at our internal labs have discovered that this hijacker is one more development coming from the ELEX group, which is infamous for other devious programs such as Myluckysurfing.com, SearchesSpace.com, MyBeginning123.com and many others. Thus, it is quite natural that the hijacker in question functions like other programs that belong to the ELEX family. Like its counterparts, this devious piece of software acts in an aggressive manner. As soon as it gains full access to your operating system, it will make unauthorized modifications to your web browsers files and registry entries. This will manifest as a change of your default homepage. It is also important to note that nearly every user could be affected by this devious program since it s fully compatible with major web browsers such as Internet Explorer, Mozilla Firefox, and Google Chrome. While at first the change of your home page might not seem like a big deal, you will gradually realize the negative impact that it has on the way you experience the web. Basically, having this browser hijacker fully active on your personal computer means that you will no longer be able to start your online sessions on a homepage of your choice as you will be presented with a questionable third-party website each time. To restore this invasive alteration you must completely delete Mobsearches.com once and for all. If you fail to do so, the change of your homepage will continue to bother you.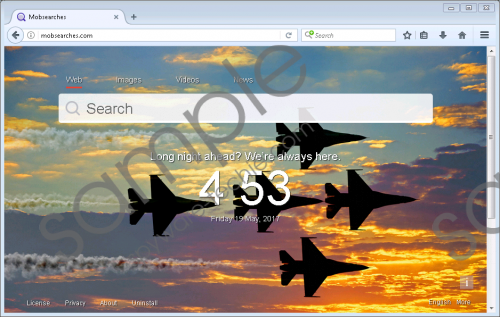 Mobsearches.com screenshot
Scroll down for full removal instructions
Further analysis has reveled that at times Mobsearches.com could be as dangerous as it is annoying. As it turns, this hijacker could be spread via bundled installers, which are infamous for hosting all sorts of questionable software. Thus, other devious programs might easily come along. If you already have this intrusive application running on your PC, be sure to check your entire operating system for other questionable programs. If that was not enough, our researchers have discovered that using the search field on a newly appointed homepage could have detrimental outcomes. That is so because you could encounter modified search results, which could host redirect links leading to malicious websites. For instance, there is a chance that you might enter a web page that hosts malicious software. Unfortunately, in some instances just entering such a website could be more than enough to infect your computer with some unknown malware. You could also be exposed to fake online stores which are set up by cyber crooks. If you ever encounter an unfamiliar online shop, make sure to learn about it before making any purchase as you might lose not only money but credit card data as well. As you can see, Mobsearches.com could prove to be a major virtual threat. Do not tolerate it and conduct its complete removal as soon as it is found up and running on your PC.
The complete removal of Mobsearches.com consists of multiple steps. It is paramount to execute every single step to delete this hijacker in its entirety. If you make a mistake or skip a step, the devious change will continue to bother you. In other cases, leftover files or registry entries might trigger a silent restoration of this browser hijacker. To avoid finding yourself in such a situation, make sure to check your operating for traces associated with Mobsearches.com as soon as you are done with the instructions below.
How to remove Mobsearches.com from your computer
Click the Windows button.
Type regedit into a search box and then select it.
Navigate to to HKEY_CURRENT_USER\Software\Microsoft\Internet Explorer\Main.
Right-click a registry value entitled Start Page and select Modify.
Replace the unwanted URL with a new one and then click OK.
Open your File Explorer.
Go to C:\Users\<your username>\AppData\Local\Google\Chrome\User Data\Default.
Delete the following files:
a) Preferences.
b) Secure Preferences.
c) Web Data.
Navigate to C:\Users\<your username>\AppData\Roaming\Mozilla\Firefox\Profiles\<unique Mozilla profile ID>.
Locate and then delete a file called prefs.js.
Right-click your Recycle Bin and then select Empty Recycle Bin.
In non-techie terms:
If you find manual removal a bit too complicated, do not worry. Our researchers have crafted an alternative removal guide to help such users delete this browser hijacker. Follow the instructions that we provide below and you will be able to remove Mobsearches.com automatically.