Do you know what Mobius Radio is?
Mobius Radio is a program that offers free Internet radio services, promising instant access to music. It doesn't tell you that if you install or somehow get Mobius Radio on your computer, you will probably suffer ads, pop-ups, banners or other advertising-related annoyances in your browser window. Before long, you are going to wish that you knew how to remove Mobius Radio.
Like most adware, Mobius Radio relies on you clicking the ads it shows you to earn money through pay-per-click methods. If you're using Internet Explorer, Mozilla Firefox, or Google Chrome as your web browser, this radio service accesses them and starts showing you ads. If you click them, you will be sent to a third-party website and the developers of Mobius Radio will receive a micropayment for the increased traffic.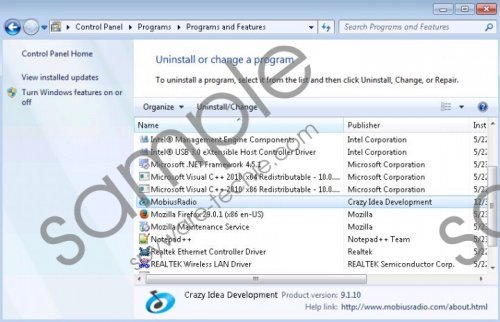 Mobius Radio screenshot
Scroll down for full removal instructions
In Mobius Radio's About Us page, it's stated that it uses advertising to recoup development costs, to be able to continue offering free music to its users. The problem is that you don't get a warning about their ad usage before you install the program. Comparatively, on its front page, a popular free music program lets you know to expect ads unless you subscribe to their Premium feature.
Of course, all of this assumes that you got Mobius Radio from its website. This program is known to come bundled with freeware, another adware application or even malware. Often, it sneaks onto your computer when you don't pay enough attention and fail to uncheck a box during installation.
While Mobius Radio is not dangerous by itself, the websites its ads link to could be. It's possible to catch a dangerous threat to your computer through ads provided by Mobius Radio. Adware also tracks your browsing activities to be able to target its ads to catch your interest better. It's stated on its webpage that Mobius Radio does not track personally identifiable information; however you can't be too careful when dealing with a program that's linked to dangerous software.
If you do not feel comfortable having Mobius Radio on your computer any longer, we recommend downloading an anti-malware tool, like SpyHunter, which will get rid of this and any other adware, protecting your computer from any threats in the future. If you wish to remove it manually, instructions are provided below.
Mobius Radio Removal
Windows XP:
Click the Start button.
Select Control Panel.
Click Add or Remove Programs.
Find Mobius Radio and select it.
Click the Remove button.
Windows 7 and Vista:
Open the Start menu.
Select Control Panel.
Click Uninstall a program.
Right-click on Mobius Radio.
Click Uninstall
Windows 8:
Right-click the bottom left corner of your screen.
In the dialog box, select Control Panel and click it.
Click Uninstall a program.
Select Mobius Radio.
Click the Uninstall button.
In non-techie terms:
Mobius Radio is an advertising-based free Internet radio player that annoys its users with pop-ups. It can come bundled with dangerous software, so it should be deleted. To get rid of it, follow the instructions below or get automatic malware removal software.