Do you know what Mobef Ransomware is?
If your computer gets hit by Mobef Ransomware, you will most likely lose a lot of your files to a vicious encryption attack if you do not have backup copies. This dangerous, new Trojan ransomware can slither onto your system without your noticing it and encrypt all your documents, photos, and archives in a very short time as it seems to use the algorithms that are built in the Windows operating system. This ransomware informs you about the shocking news by showing its ransom note on your desktop. Although right now it seems that this Trojan mostly spreads in the United States, who knows where it may emerge in the near future? Since it is possible to prevent such dangerous threats from entering your computer, it is well worth reading our entire article to find out more about this beast. As for solutions to get out of this current infection, we can tell you this: You must remove Mobef Ransomware immediately. But what is even more important as a first step is to end the process through which this Trojan can keep up its operation and block your screen. Our researchers say that it is quite possible that you will not be able to recover your files without the private key and there are no free tools available on the web yet either. But we can definitely assist you with stopping this nightmare and suggesting a security tool to protect your system.
According to our researchers, it is very useful to understand how such a Trojan ransomware can infiltrate your operating system without your knowledge and cause you such destruction. Because when you know how it may come, you also know how not to let it in. This Trojan has been found spreading over the web in different versions. The most likely way you can find it is in an infected executable file. This file may be presented to you in a number of ways. For example, you may get a spam e-mail with an infectious attachment file. This attachment can look like an image, a video, or a document file. However, a lot of times these are fake files that only disguise an executable malicious file. Once you download them and run them, the infection starts up and there will be no way to stop it because everything happens behind your back.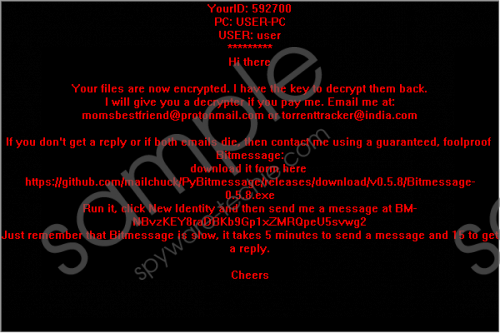 Mobef Ransomware screenshot
Scroll down for full removal instructions
So, obviously, you need to be extra careful when you open your mails. We suggest that you do not open any mails that come from unknown or questionable sources. One click can start an avalanche of events such as the doings of Mobef Ransomware. And as you can see, these never end well. Such an infectious file may also be offered to you through third-party advertisements. It is possible that you encounter a download offer, a fake driver update, or a fake system error notification. Once you click on these ads, this Trojan may drop onto your system and you are doomed. It is also very important to note that popular social networking sites, including Facebook and Twitter can also be targeted by cyber criminals and they may spread fake links (image and video) in feeds and on walls as well as through chat messages. Think twice before you click on anything on such websites. Nevertheless, no matter how this ransomware ended up on your computer, only one thing can really save you from more trouble: You need to remove Mobef Ransomware ASAP; unless, you decide to pay the ransom fee and see what happens.
Once Mobef Ransomware starts up, it targets the following extensions: .3ds, .4db, .4DD, .7z, .7zip, .accdb, .accdt, .aep, .aes, .ai, .arj, .axx, .bak, .bpw, .cdr, cer, .crp, .crt, .csv, .db, .dbf, .dbx, .der .doc, .docm, .docx, .dot, .dotm, .dotx, .dwfx, .dwg, .dwk, .dxf, .eml, .eml, .fdb, .gdb, .gho, .gpg,. gxk, .hid, .idx, .ifx, .iso, .kdb, .kdbx, .key, .ksd, .max, .mdb, .mdf, .mpd, .mpp, .myo, .nba, .nbf, nsf, .nv2, .odb, .odp, ods, odt, .ofx, p12, .pdb, .pdf, .pfx, .pgp, .ppj, pps, .ppsx, .ppt, .pptx , .prproj, .psd, .psw, .qba, .qbb, .QBO, .QBW, .qfx, .qif, .rar, .raw, rpt, .rtf, .saj, .sdc, .sdf,. sko, .sql, .sqllite, .sxc, .tar, .tax, .tbl, tib, .txt, .wdb, .xls, .xlsm, .xlsx, .xml, .zip. Our researchers say that this Trojan may use DES, AES, or RSA encryption algorithms to take your files hostage; it might depend on the version. This ransomware does not change the extensions of the infected files; therefore, you cannot tell by the look if a file is encrypted or not. Although, if you try to run an encrypted file, it will just refuse to work so it becomes quite clear. Obviously, it is all about extorting money from you in order to get your files back. Once Mobef Ransomware finishes its vicious act, it blocks your screen with a red-colored ransom note on black background. You cannot overlook this note because it will always stay on top and you cannot even close it; unless you end the malicious process. You should remove Mobef Ransomware as soon as you notice its presence if you want to restore your virtual security.
From the note you learn that your files have been encrypted and that you have to send an e-mail to either momsbestfriend@protonmail.com or torrenttracker@india.com in order to get some information about how you are supposed to pay and how much. Most commonly the ransom fee is a couple of hundred dollars if the criminals target individual users. If you pay this fee, you are supposed to get the necessary private key that could be used to decrypt your files. However, this rarely happens that criminals actually keep their promises. You need to prepare for that too if you decide to pay.
We hope it is clear now why it is so important for you to keep backup copies. If you have those on an external hard disk, all you need to do is copy them back to your PC. But do not do this until you end this malicious process and delete Mobef Ransomware. In order to help you with that we have prepared instructions for you below. Since removing Mobef Ransomware manually would take an expert, we have also included a guide that helps you download a decent automatic malware removal tool to clean all known threats from your system. Unfortunately, this will not give your files back. If you need assistance with the removal of Mobef Ransomware, please leave us a message below.
End Mobef Ransomware process
Tap Ctrl+Shift+Esc to launch Task Manager.
In the list of processes, find and select the one called "KGB HAS YOUR KOMPUTER" or any other name that the executable malicious file has.
Click End task and exit the Task Manager.
Reboot your system.
Mobef Ransomware Removal
Start up a browser and visit http://www.spyware-techie.com/download-sph
Download and install SpyHunter.
Initiate a full-system scan.
Remove all existing malware infections.
Reboot your system.
In non-techie terms:
Mobef Ransomware is a dangerous Trojan ransomware threat that has emerged only recently. This malware infection can encrypt your major files in no time practically; therefore, there is a good chance that you will lose these encrypted files for ever. Unless, of course, you are ready to pay the ransom fee because in that case you are promised to get the decryption key. But are you sure you can trust cyber criminals whose only concern is extorting money from their victims? It is your choice to make a decision, of course. But our experience shows that there is little chance that you will actually get the key and will be able to recover all your files. It is very important for us to emphasize the need to make regular copies of your personal files onto an external drive. Even if you have this backup, you cannot copy your original files back until you stop the malicious process that runs in your system. Once you do that, you need to make sure that you delete Mobef Ransomware and all other possible infections. Only then can you actually copy your files back. We suggest that you protect your computer with a professional malware removal tool in order to save yourself from similar attacks.