Do you know what mixSportTV Search Plus is?
mixSportTV Search Plus is a browser plugin that is considered to be a potentially unwanted program. If you wonder why it is so, you should continue reading our report as, further in it, we will explain why the application fits in this category. It is vital to clarify that potentially unwanted programs are not thought to be malicious. However, it does not mean users should be careless with them. Besides, such software may have various annoying qualities and to avoid disappointment, it is better to learn about them right from the start. If you decide the plugin might be too irritating, you could eliminate it. At the end of the main text, you should find a removal guide showing how to delete mixSportTV Search Plus from your browser. Also, users ought to be able to get rid of it with a reputable antimalware tool.
For now mixSportTV Search Plus works only on Google Chrome browsers. Thus, it is not a surprise the extension can be downloaded from the Chrome Web Store page. As you realize legitimate websites can contain potentially unwanted programs, so you have to be cautious when selecting new plugins if you wish to avoid such software. Nevertheless, programs that fall under this classification are often spread through various channels. For example, the application could also travel with bundled software installers, pop-up advertisements, redirects, etc. Meaning, you should never lose your guard down when surfing the Internet. Besides watching out for suspicious content, we recommend employing a reputable antimalware tool too that could help you keep the system clean and secure.
Once installed mixSportTV Search Plus might change the user's search engine and place a toolbar below the Google Chrome's address bar. Our researchers say the new search engine might be called searchalgo.com and it could redirect to a modified search.yahoo.com version. Consequently, we recommend being careful with the received results as there is a chance they could contain pop-ups, banners, and other ads from unknown sources. If you take a look at mixSportTV Search Plus Privacy Policy and End User License Agreement documents, you should learn the potentially unwanted program might track your browsing, gather information about your browsing habits and share it with third parties. Such data could be used to serve you with tailored advertisements and for other marketing purposes.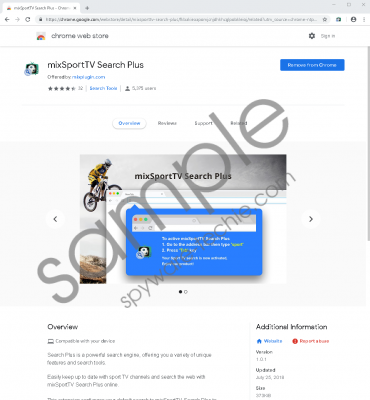 mixSportTV Search Plus screenshot
Scroll down for full removal instructions
If you find it annoying the plugin may change your search engine, gather anonymous information about you, and show you targeted advertisements, you could get rid of it. Our researchers say mixSportTV Search Plus can be erased from the Google Chrome's extensions menu. To make this task easier, we provide the removal guide available a bit below. If you would rather use an antimalware tool instead, we recommend picking a trustworthy tool that could help you deal with the potentially unwanted program and keep your system clean in the future. Should you have other questions about the plugin, feel free to leave a comment below.
Erase mixSportTV Search Plus
Open Google Chrome.
Paste this link: chrome://extensions into the browser's address bar.
Press Enter and search for mixSportTV Search Plus.
Tap Remove and exit Extensions menu.
Restart your browser.
In non-techie terms:
mixSportTV Search Plus is a potentially unwanted program that may show you third-party advertising content and change your browser preferences. Our computer security specialists also report that it is likely the plugin might gather information, such as search keywords or clicked ads. It is possible the collected data could be used to display tailored advertisements. If you do not like targeted ads you might not think of interacting with them, but in case you may, keep in mind it could be best to be careful with them as the application's developers may not take any responsibility for third-party content. If you decide the extension is not worth it, you could delete it with the removal guide available above this paragraph or a reputable antimalware tool of your choice.