Do you know what Miul Downloads is?
Miul Downloads is not the program you may think it is. Our researchers have tested this download manager and have found that it does not feature the functions it ought to. Removing this program is an option worth considering, because it sole purpose it to serve as a vehicle for distributing shady third-party software that is apt to cause you inconvenience and a substantial amount of trouble. We are going to discuss this program in greater detail and provide as much information about it as possible. Therefore, if you have installed this program and it does not work, then here is your chance to find out why.
It is claimed that Miul Downloads will keep your software up to date, but the research conducted in our internal lab suggests the opposite. This program does not have the ability to update anything. In fact, it does not even have a graphical user interface where you could browse through all of the applications Miul Downloads allegedly features. Moreover, this program is not even installed, as its deceptive downloader is programmed to install third-party software that you ought to remove. To our knowledge, this fake download manager can install shady programs, such as Tortuga browser, Media Player Enhance, and Smart Driver updater. All of these programs come from different developers, so our researchers suggest that Miul Downloads's only objective is to distribute software in order to make money for its developers.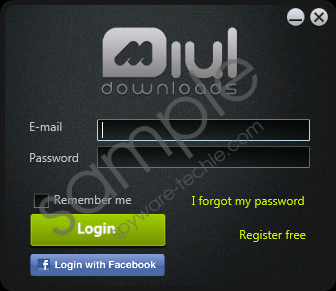 Miul Downloads screenshot
Scroll down for full removal instructions
Our research suggests that Miul Downloads is disseminated only via its dedicated website called Miul.com. This website's minimalistic design gives the impression that this program is sophisticated and that it is the real deal. This website does not provide any information about this program's developer, but even if it did, its name would probably be fake and you could not find any information about it. Miul Downloads belongs to a certain family of programs that also include ZipperPro and Z-Zip. The aforementioned programs are promoted as file archivers, but they do not work. They function exactly like Miul Downloads does. They have identical installers that can install unreliable programs if you are not paying enough attention. If you read carefully, you will see the names of the promoted programs. You can opt out their installation by clicking Decline. So, as you can see, this download manager/updater has nothing real to offer and we suggest that you remove its promoted programs.
You can remove Miul Downloads-related software via Control Panel. But it can be hard to identify which program is legitimate and which ought to be uninstalled. If you can recall the specific date you tried to install Miul Downloads, then sort all programs by their installation date and go through each program. Find the ones you are not familiar with and search for information about them on the web. When you identify an undesirable program just click Remove/Uninstall and that will be. Alternatively, you can get an anti-malware scanner that can detect adware and potentially unwanted software that can remove the undesirable software for you.
How to uninstall software via Control Panel
Windows 10
Right-click on the Start menu.
Go to Programs and Features.
Find the unwanted program in the program list and Uninstall it.
Windows 8/Window 8.1
On your keyboard press the Windows Key+X.
Open Control Panel and click Uninstall a program.
Find the undesirable application and double-click on it.
Click Uninstall.
Windows Vista/Windows 7
Open the Start menu.
Click Control Panel.
Select Uninstall a program.
Find the program and right-click on it.
Uninstall.
Windows XP
Open the Start menu and click Control Panel.
Open Add or Remove Programs.
Locate the unwanted program and click Remove.
In non-techie terms:
Miul Downloads is truly a potentially unwanted program that many of you will want to remove, because it is not a download manager for legitimate software. Indeed, it does quite the opposite; it is set to install various adware and potentially unwanted programs. Those programs may put your computer's security at risk. Therefore, you should remove Miul Downloads-related programs from your computer ASAP.