Do you know what Minotaur Ransomware is?
Do not be surprised that you cannot open any personal file if you are one of those users who always open attachments from suspicious emails. Minotaur Ransomware, a new malicious application that is mainly spread via emails, could have illegally entered your computer and locked files it has found on your system. This is a tactic used to extract money from users. Do not let Minotaur Ransomware obtain money from you! Yes, we know you have found your files encrypted and need to access them again, but we still cannot let you pay a ransom. There is a simple reason we say so – neither you nor we know whether this will have the desirable effect, i.e. whether you will get the tool to unlock your files with. We would not be surprised at all if cyber criminals took your money and would not give you the decryptor in exchange. They only want your money, and they really do not care about your precious files. It is up to you how to act in this unpleasant situation, but if you want to hear a piece of advice from us, we would say that you should delete the ransomware infection fully instead. Continue reading to learn more about its removal.
Minotaur Ransomware is not some kind of sophisticated computer threat; however, if it ever enters your system, you will definitely not be happy about the changes applied. This malicious application locks all personal users' files it finds. These files include pictures, important documents, text files, slides, music, and videos. All these files get the .lock extension, so you do not even need to check them to find out which of your files have been affected by this nasty threat. Do not even try to remove this extension because this will not change anything – all these files will stay encrypted unless you get the unique key and unlock them all with it. Speaking about the decryption of files, Minotaur Ransomware drops a ransom note How To Decrypt Files.txt with instructions. Users find out that they need to send the key indicated in the file to minotaur@420blaze.it and then pay a ransom for the chance to get files back. The ransomware infection asks 0.125 BTC, which is equivalent to 507 US dollars at today's price. Since you do not know whether you will get the working decryptor from the ransomware author, you should not pay a cent to cyber criminals too. Unfortunately, we cannot promise that you will find an alternative way to unlock your files for free because free decryptor tools that could be downloaded from the web for free are not available, which leaves users with only one option – to restore files from a backup. What do I do if I have never backed up any of my files? Well, you should try out reliable data recovery tools available on the market, and if they cannot fix any files either, you should wait until the free decryptor becomes available.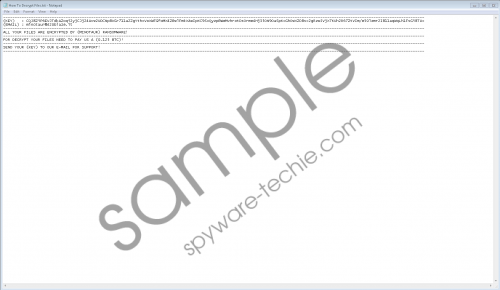 Minotaur Ransomware screenshot
Scroll down for full removal instructions
You should also know how Minotaur Ransomware is distributed so that you could prevent similar threats from entering your system. According to malware researchers, the chances are high that this particular threat is spread via emails mainly. Specifically speaking, an attachment you have recently opened could have dropped this threat on your system. Do not let this happen to you again – stop opening suspicious email attachments. Additionally, make sure there is a security application installed on your computer if you browse the web every day and download various programs from P2P websites.
No files will be decrypted for you automatically if you eliminate Minotaur Ransomware, but it is a must to erase this threat so that you would not launch it accidentally again. You only need to remove one file – the one you had downloaded and opened before finding your files encrypted. Once you have found and erased it, eliminate all copies of the ransom note dropped on your system.
How to delete Minotaur Ransomware
Open Windows Explorer (tap Win+E).
Locate the malicious file you have opened (check %USERPROFILE%\Desktop and %USERPROFILE%\Downloads).
Delete it.
Remove How To Decrypt Files.txt.
Empty Recycle Bin.
Perform a system scan with an antimalware scanner.
In non-techie terms:
Minotaur Ransomware is a real monster – it will make a bunch of files on your system unusable if it finds a way to enter your system and does that successfully. The ransomware infection wants your money, but you should not send a cent because you do not know whether the ransomware author will really help you to unlock your important files. There is a possibility that the author does not even have a working decryptor.