Do you know what Minehp.com is?
Our security experts have analyzed Minehp.com and concluded that it is nothing more than an unreliable search engine that they have classified as a browser hijacker due to the way it is disseminated. Due to the fact that it can enter and replace your browser's homepage without your knowledge or consent, you ought to remove it, but if you are not convinced then, you should be aware that it serves promotional links in its search results and on its main page. And, some of those links and ads can be unreliable and malicious in nature. Not only that but it can collect anonymous information about you to customize them. Please continue reading to know more.
If your computer happens to become infected with this hijacker, then it will replace your browser's homepage address with its own. The reason for doing this is simple — its developers want you to use it as a regular search engine so that they could subject you to numerous promotional links and advertisements featured in its search results and main page. For example, the main page features banner-type ads of potentially unwanted programs such as Reimage and PC Purifier. Nevertheless, most other links are legitimate, but the fact that it features potentially unwanted programs is rather disturbing and does not give any confidence.
You might think that it is legitimate because its search functionality is capable of providing you with search results. However, we want to point your attention to the fact that this hijacker redirects all search queries to Yahoo.com. Yahoo may process the search queries, but Minehp.com modifies them to accommodate the customized promotional links that generate its developers advertising revenue. In fact, advertising revenue is the only reason this hijacker even exists. The problem is, however, that the promotional links and ads tend to redirect to shady websites that can further jeopardize your computer's security, so you ought to get rid of it.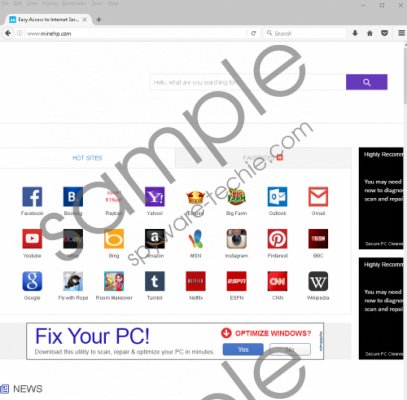 Minehp.com screenshot
Scroll down for full removal instructions
Now let us talk about its origins. Our malware researchers have concluded that this hijacker definitely comes from an unreliable and untrustworthy creator, but this creator is unknown because it did not sign this malicious search engine or provide any contact information to get some background information about its origins. Furthermore, it is more than likely that the developer is purposefully hiding in the shadows because going public with Minehp.com would mean a lot of trouble for them.
Of vital importance is the fact that Minehp.com is distributed in a malicious manner and its distribution method alone is the reason our security experts have classified it as a browser hijacker. Research has revealed that this search engine is distributed through malicious software installers that inject this hijacker into your web browser without your knowledge or authorization. Also, some installers do not allow you to deselect it, so this hijacker is set to replace your browser's homepage address automatically. Our researchers say that the software bundles containing this hijacker are most likely distributed on Russia-based websites, so stay vigilant if you occasionally visit such sites to get free software.
We hope that you found this article informative. Our researchers have concluded that Minehp.com is nothing more than a browser hijacker due to the way it is distributed. However, apart from that, it has a tendency to show shady promotional links and ads that promote unreliable software and other content. Therefore, we recommend that you remove it from your browser as soon as the opportunity arises. We also suggest scanning your computer with an anti-malware application to make sure your computer's security has not been compromised by malware.
How to remove this browser hijacker
Microsoft Internet Explorer
Hold down Alt+T keys.
Select Internet Options.
Enter a new homepage address in the address line.
Click OK.
Mozilla Firefox
Hold down Alt+T.
Click Options.
Select General.
Enter a new homepage address in the Home page box.
Google Chrome
Hold down Alt+F.
Select Settings.
Click Set pages.
Enter a new homepage address.
Click OK.
In non-techie terms:
From the very outset, it is clear that Minehp.com is an illegitimate search engine due to the numerous questionable promotional inks featured on its main page. Not only that, but it can feature them in its search results that may look safe but actually redirect you to malicious websites. It is deceptively distributed through malicious software bundles that install it without permission. Therefore, you ought to delete it from your PC.