Do you know what Micorsoft Essential Security Pro 2013 is?
Micorsoft Essential Security Pro 2013 is a fraudulent security application that can easily sneak into your unprotected operating system and start manipulating you in order to obtain your money. The rogue presents fake computer scanning procedures and displays various warnings saying that you should react immediately and buy the full version of Micorsoft Essential Security Pro 2013, which is not true, because the only immediate action that the user has to carry out is the removal of this cunning infection.
It is vital to remove Micorsoft Essential Security Pro 2013for the simple reason this is fake program only pretends that it can scan the system and identify different infections. Fake scans and misleading messages should be disregarded; otherwise, the user may suffer from far-reaching consequences. If the full fake version of Micorsoft Essential Security Pro 2013 is acquired, the odds are that the data entered in the purchase form may be used to pay for items purchased online or withdraw the money from your back account. To prevent this from happening, ignore such infections as Trojan-Dropper:OSX/Revir.B and Backdoor:OSX/Imuler.A, which are presented as damaging your system. In reality, these infections are not made-up, but in this particular case, you should ignore them as well as this description of the bogus program:
This version of Micorsoft Essential Security Pro 2013 is for trial purpose only. Threats' removal and real time protection features are disabled. […] To be able to remove threats and turn real time protection on, you need to activate Micorsoft Essential Security Pro 2013.
The notification presented is just one example of how the rogue attempts to deceive unsuspecting computer users. Micorsoft Essential Security Pro 2013 is also capable of impairing the system, which leads to slower Internet speed and computer performance. If you find that your machine is infected with the rogue in question, and the computer is not operating properly, the removal of the rogue is the safest and the most recommended method for dealing with the issue.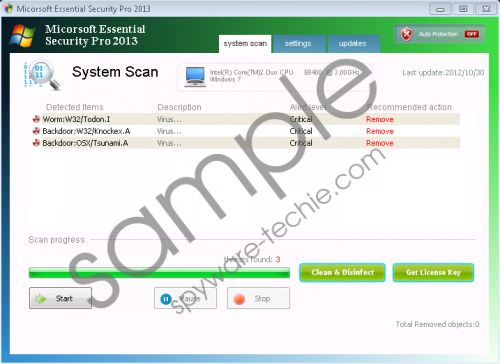 Micorsoft Essential Security Pro 2013 screenshot
Scroll down for full removal instructions
As the rogue blocks all ".exe" files from running, it is necessary to the rename file extension so that the infection does not identify it as an ".exe" file. Find our instructions below on how to install SpyHunter successfully:
Open your internet browsers.
Go to http://www.spyware-techie.com/download-sph and download SpyHunter.
Open any folder on your desktop.
Click on Tools.
Select Folder Options.
Open the View tab.
Uncheck the Hide extensions for known file types box.
Press OK.
Rename the file downloaded SpyHunter installation file extension from "spyhunter-installer.exe" to "spyhunter-installer.com".
Install the application and run a system scan.
In non-techie terms:
Micorsoft Essential Security Pro 2013 is a malicious program which you should remove from the PC without hesitation. The rogue attempts to convince the computer user that the full version should be used to delete various fake infections. Do not trust this fraudulent application but get rid of it immediately.
Aliases: Micorsoft Essential Security.