Do you know what MentorFamily is?
MentorFamily sounds like a valuable application for families with kids, but it seems rather annoying as it constantly displays pop-ups advertising various products. That does not surprise us because this application is classified as adware program. The biggest problem with MentorFamily is that it can redirect you to unreliable websites, and that could result in your PC's catching harmful malware. If you want to avoid such risk or get rid of the annoying pop-ups, you should delete the program. In fact, removing it will not take much time, but afterward you will feel safer while surfing the Internet. Therefore, we have tested this adware in our internal lab and learned how to erase it, so you will find our recommended steps for the application's removal below the article.
Most of the users find the program on their own while searching the Internet as it can be downloaded from the MentorFamily official website mentorfamily.com. However, the installer is bundled with other similar applications such as potentially unwanted programs (PUP), browser hijackers, and others. Meaning, if you have not noticed these applications being suggested to you, you probably have more new ones, including MentorFamily. The adware can enter your computer through other bundled downloads. In most cases, it happens while users download freeware from unreliable websites and as they choose automatic installation, they get more applications without noticing. Also, there is a possibility your browser has been hijacked, and it displays download offers for adware, PUPs, etc. in your search results. They might be advertised as useful applications, so without realizing you install unwanted programs.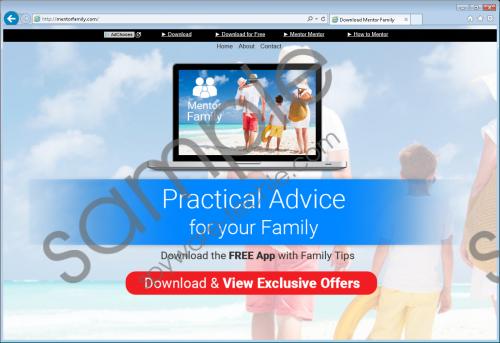 MentorFamily screenshot
Scroll down for full removal instructions
MentorFamily creates a lot of shortcuts on your computer, and when you click on them, it launches application window. The program's looks are simplified as mainly it consists of a white background and a logo in the upper-left corner. One could say that the rest of the content is taken from someone's website, but actually, it simply displays the whole website with all the articles that someone else has created. The question is why would you need to install MentorFamily when you can read all the content on bestfamilyadvice.com and without the ads?
Moreover, when it settles in your computer, MentorFamily creates particular registry entries, such as:
HKLM\Software\Microsoft\Internet Explorer\DOMStorage\www.MentorFamily.com
HKLM\Software\Microsoft\Internet Explorer\DOMStorage\MentorFamily.com
From these entries, we can see that it is going to use the Internet Explorer DOMStorage, which can be compared to HTML cookies. This means that the program will gather information about you while you browse with the Internet Explorer. Usually, adware applications collect information linked to user's browsing habits, e.g. it could be the keywords you type in various search lines, clicked ads and products or lists of the goods you have recently bought. The gathered information is later analyzed and used for bringing you targeted ads. So these pop-ups should look quite tempting because they would show something you are currently interested in and possibly for a better price. As much as you would like to save some money, we must warn you that clicking on these ads could be dangerous. For instance, it could be a fake e-shop and a fake product, so you would reveal sensitive information about your bank account and lose money while paying for a fictitious product. Also, there is always a chance that you could be redirected to unreliable website containing malware like Trojans, viruses, worms, etc. Getting your computer infected is not that hard because it might be enough to enter an unreliable web page or click on any content while being there.
To summarize, MentorFamily's usefulness is doubtful as you can read the same advices on the Internet. However, if you continue using this adware you might become a victim of cyber fraud or your computer could catch harmful malware. As you understand the risks, it would be a good idea to remove the application before it is too late. Luckily, you can get rid of this adware via Control Panel and after the removal, there should be no leftovers. Also, if you need any guidance while deleting this program, take a look at the instructions below.
Delete MentorFamily via Control Panel
Windows 10 & Windows 8
Press Windows Key+R to launch the RUN.
Type Control Panel and click OK.
Click on Uninstall a program.
Locate the adware from the list and click Uninstall.
Windows 7 & Windows Vista
Go to the Start menu and open Control Panel.
Select Uninstall a program.
Pick the program from displayed ones and click Uninstall.
Windows XP
Open Start and pick Control Panel.
Click on Add or Remove Programs.
Find the application from given ones and select Uninstall.
In non-techie terms:
MentorFamily is just another adware program, created to display targeted ads and generate revenue from your clicks. Also, using this application can be harmful to your computer as it is hard to distinguish fake websites from the real ones. In order to feel secure while browsing you should remove the adware and then scan your computer for other possible threats since it might have installed PUPs or other adware together.