Do you know what Memory Game Plugin is?
Memory Game Plugin might seem like a fun extension for those who like memory games, but the truth is it was recently categorized as a potentially unwanted program. It means you ought to be careful with this application if you ever come across it. In fact, our computer security specialists would recommend not to waste any time with it. It appears to be users who install it could put their privacy or computer's security at risk as there is a possibility the add-on might gather various information about the user and use it for serving unreliable pop-ups, banners, sponsored links, and so on. Currently, Memory Game Plugin works only with Google Chrome, and if you want to get rid of t manually you could use the removal guide we will place at the end of the article. On the other hand, if you are interested in knowing more details about this potentially unwanted program, we invite you to review the text first and only then delete the untrustworthy add-on.
Same as other similar potentially unwanted programs, Memory Game Plugin could enter the system after clicking unreliable pop-ups, launching bundled installers, etc. Thus, users who come across it could do so accidentally and without even realizing it. In the future, it would be advisable to keep away from P2P file-sharing networks and other similar web pages offering pirated software, doubtful freeware, and so on. Instead, users should obtain software from legitimate web pages belonging to the program's developers or reliable distributors. Moreover, if you often install various threats accidentally, it might be the time to think about getting a reputable antimalware tool that could defend the system from multiple threats.
The most suspicious part of Memory Game Plugin is the fact it does not provide any Privacy Policy (PP) and End User License Agreement (EULA) statements. Without a full description and the mentioned papers we do not know who created this potentially unwanted program, what is their policy on privacy issues, what else can the extension do besides providing a memory game, etc. Unfortunately, without any answers to the listed questions, the add-on cannot be considered as reliable.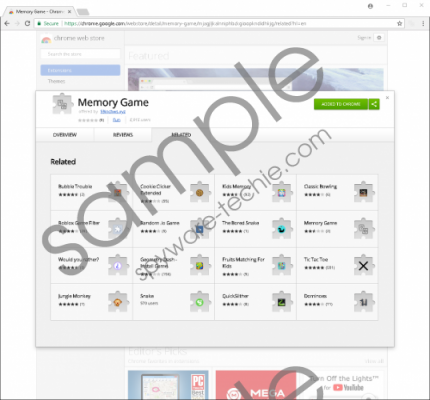 Memory Game Plugin screenshot
Scroll down for full removal instructions
Some users do not bother reading PP or EULA, but many of them understand how vital their existence is as without these papers you cannot know if the software will not invade your privacy, sell or share your information with third-party advertisers, use it to display potentially malicious ads, and so on. Therefore, their absence should alert the user something is not right. From what our computer security specialists have learned while testing Memory Game Plugin and from the knowledge they have gathered while researching such unreliable applications over the years, they suspect the potentially unwanted program might have been created to show third-party advertising content and generate revenue as a result.
All in all, given there is a possibility, Memory Game Plugin could show potentially malicious advertising content or invade user's privacy; we would not recommend leaving it unattended. If you think a simple memory game is not worth taking any risks as well, you could follow the removal guide available below and learn how to erase this suspicious extension from your Google Chrome. The second option is to install a reputable antimalware tool and let it delete the potentially unwanted program for you.
Erase Memory Game Plugin
Launch Google Chrome.
Press ALT+F.
Click More tools.
Select Extensions.
Find Memory Game.
Click Remove.
Then press Remove again to confirm.
Restart the browser.
In non-techie terms:
Memory Game Plugin is not an add-on we would recommend keeping on your browser; the application is considered to be a potentially unwanted program. Not to mention, our computer security specialists suspect the extension could gather information about the user and then later use it to display tempting ads from unknown sources. Naturally, to avoid such content, you should just delete this suspicious extension. Admittedly, a simple memory game is not worth taking any risks when you can find tones of them on the Internet, although next time you should make sure a reputable company develops it. For users who decide to eliminate the potentially unwanted program, we can offer our removal guide available just a bit above this text. Also, the application can be erased with a reputable antimalware tool of your choice.