Do you know what Meme Generator – MemeTab is?
Meme Generator – MemeTab is supposed to make it possible for you to create your own memes, the so-called "virtually transmitted cultural symbols." Considering that the extension does not offer any other service, it is highly unlikely that Google Chrome users would seek it out themselves. Most likely, it would be introduced to them via a software bundle or a random pop-up delivered via an unreliable site or by adware. Of course, if adware exists on your PC, you want to delete it as soon as possible. Since there is a great possibility that malware – or, at least, undesirable software, was installed along with the threat, we strongly encourage you to install a legitimate malware scanner to inspect your operating system. A full system scan takes only a few minutes, and, after that, you know exactly what it is that you are dealing with. In any case, you need to consider the removal of Meme Generator – MemeTab.
Although it is most likely that Chrome users acquire Meme Generator – MemeTab via software bundles that might carry malware, our research team has found that the extension also has an official download page, memetab.com. The installer of the extension is at chrome.google.com/webstore/detail/meme-generator-memetab/ffmpfnfeocophimbkabhamodpfpfhkik. More and more questionable extensions are being promoted via the Chrome web store, which is why you need to be cautious if you choose to use this source. All in all, regardless of how you install the extension, it always sets Search.memetab.com as the New Tab and the homepage. Trusting this search tool is not recommended because it redirects searches to Yahoo Search – which, first of all, is done without your permission, and, therefore, is illegal – and it displays unreliable search results. Although these results are shown via a well-known search engine, the PUP (potentially unwanted program) can inject any content, and that is the number one reason you should consider deleting Meme Generator – MemeTab.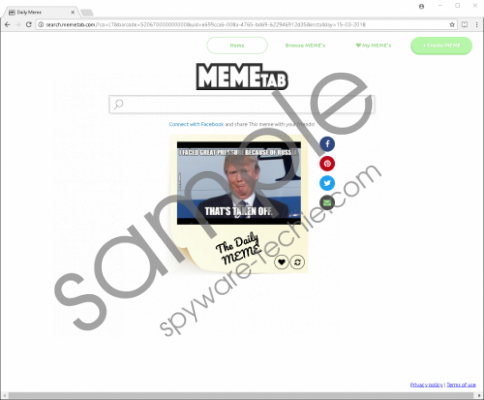 Meme Generator - MemeTab screenshot
Scroll down for full removal instructions
Are you familiar with the Privacy Policy of Meme Generator – MemeTab? If you are not, here are some of the things our research team has discovered. For one, the creator of the PUP indicates that personal information is recorded to "improve" services and "perform research." Additionally, it is revealed that non-personally identifiable information can be disclosed to third parties. Do you agree with the collection of private data? Do you want information regarding your activity shared with unknown parties? These are the questions you need to ask yourself if you are hesitant to delete Meme Generator – MemeTab. This extension might appear to be all fun and games, but the reality is that it could be used in some undesirable ways too, and we suggest that you take no risks when it comes to your virtual security. If you agree with that, remove the PUP.
Do not worry about not having enough experience with the removal of undesirable programs because the instructions you can find below should make it very easy for you to get rid of Meme Generator – MemeTab. This extension can be eliminated in just a few steps, but we cannot guarantee that you can get rid of other threats just as easily. First and foremost, you need to figure out if malware exists at all, and you can do that using a malware scanner. If you realize that you are in way over your head, install an anti-malware tool. It will delete Meme Generator – MemeTab and other unreliable pieces automatically. You can also use the removal guides available on this site if you choose the manual route.
Remove Meme Generator – MemeTab and Search.memetab.com
Launch Chrome and enter chrome://extensions/ into the address bar.
Click the recycle bin next to the unwanted extension and select Remove.
Enter chrome://settings/clearBrowserData into the address bar.
Choose the time range and mark the boxes and then click CLEAR DATA.
In non-techie terms:
Should you remove Meme Generator – MemeTab? That is the question you might be asking yourself right now. Although this extension allows you to create and share memes, you need to think about the risks that are associated with it too. For example, you know that it redirects to Yahoo Search and, potentially, shows modified results. That is not a reliable service. You also know that this PUP can record your activity and disclose information to unknown parties. Due to these reasons, we are sure you will choose to delete the extension. Do it manually using the guide above, or, if other threats exist, install an anti-malware tool that will take care of all PUPs and threats automatically.