Do you know what Melodx is?
According to the official information presented at melodx.com, Melodx is a free and legal HD music streamer which is supposed to scan different pages and present you with easy-access to various media content. Unfortunately, this is not all that the program has been created for. The suspicious app has been analyzed in our internal lab, and it was discovered that the program acts as an advertisement-supported program. You will need to delete Melodx from the operating system if you do not want to face various disturbing pop-up and banner advertisements. These may be presented to you by various different parties affiliated to Montiera LTD. Note that you may need to remove other applications presented by this company, including Buenosearch.com or Wizebar, as well. Of course, right now you should focus on the removal of the disturbing adware.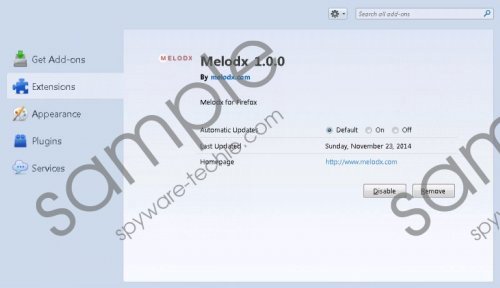 Melodx screenshot
Scroll down for full removal instructions
In the Privacy Policy of the suspicious Melodx it is disclosed that Superfish, DealPly, and other third parties may be employed to provide content. This content may include contextual advertisements, coupons, promotions and other kind of offers. Melodx developers may present pop-ups related to their own services; however, the third-party advertisers may present random offers related to the information collected and stored by running tracking cookies. Note that even if you remove Melodx cookies, the suspicious, annoying offers will continue to show up. In order to eliminate them, you will need to delete adware. This is what we strongly recommend because advertisement-supported software may accidentally promote the offers of cyber criminals. If you do not want to worry about clicking on misleading ads, you certainly should remove the software activating them.
The removal of Melodx may be quite unpredictable if undesirable third-party software is running on the system. If this is the case, we do not recommend having Melodx deleted manually. If you choose this removal option, it is possible that you will omit to delete other running threats. Due to this, even if you uninstall the undesirable adware from Windows manually, you should install automatic malware removal software as well. Overall, your system should be guarded by reliable software at all times, and this is the best time to install it.
Delete Melodx from Windows
Delete from Windows 8:
Access the Metro UI menu, right-click on the screen and select All apps.
As the Apps menu shows up – click Control Panel and then Uninstall a program.
Right-click the application you have chosen to remove and select Uninstall.
Delete from Windows Vista & Windows 7:
Navigate to the Taskbar, click the Windows/Start button and select Control Panel.
Click Uninstall a program and then right-click the application you wish to remove.
Finally select Uninstall and to complete the removal process.
Delete from Windows XP:
Navigate to the Taskbar, click the Start button and select Control Panel.
Double-click Add or Remove Programs and select Change or Remove Programs.
Click the undesirable application and select the provided option Remove.
In non-techie terms:
Melodx is a program that has some features of an advertisement-supported program. If you do not remove this application, it will enable third-party affiliates to present different commercial pop-ups and banner offers. You can perform manual Melodx removal if you are sure that no other infections are active, or you can choose to install automatic malware removal software. The instructions below may be useful if you choose the latter option.