Do you know what Megmobpoi.club is?
Megmobpoi.club is an adware server that can redirect to webpages representing advertisements. Sadly, it is unlikely that this server would redirect to legitimate, trustworthy, and harmless pages. Instead, it is most likely to redirect to pages that demand users to enable notifications. If these are enabled, even more ads can start appearing. Without a doubt, if you have recently enabled notifications without fully understanding the situation, we strongly recommend disabling them. Luckily, you should have no trouble removing Megmobpoi.club-related notifications using the guides you can find below. These guides were created for Mozilla Firefox and Google Chrome users, and if you need assistance taking back the control over some other browser, do not hesitate to leave a comment below.
You might not even notice the URL of Megmobpoi.club when it redirects you to a different page because this action is very quick. While it is important to recognize the adware server, it is much more important to understand why you are redirected in the first place. Is it because you keep visiting the same unreliable website or websites over and over again? Illegal video streaming websites, for example, are notorious for redirecting visitors to random pages, and this is how you could be introduced to Megmobpoi.club as well. In a different scenario, adware (advertising-supported software) exists on your system and is redirecting you to unreliable websites via Megmobpoi.club without your interaction at all. Since that is a possibility, we strongly recommend installing a legitimate malware scanner and inspecting your system. If there is anything that you need to delete, you will be warned about it.
Let's talk about webpages that demand enabling notifications. Interacting with the content introduced to you via websites to which Megmobpoi.club redirects is risky already, but enabling notifications is particularly risky because that enables the placement of ads at any time. Can you trust online ads? Some of them, you can. Most of them, you cannot. These advertisements might be used to expose you to scams, malware installers, cryptocurrency miners, and other things you generally want to avoid. For example, you might be introduced to a video player that, allegedly, can help you stream anything you want for free. If you download this tool, you might be letting in ransomware, Trojans, and other types of malware. Scam pages could be used to trick you into exposing your email address, telephone number, full name, and other sensitive information that schemers could then use to blackmail you, to trick you into disclosing even more information, or to steal your identity and impersonate you online.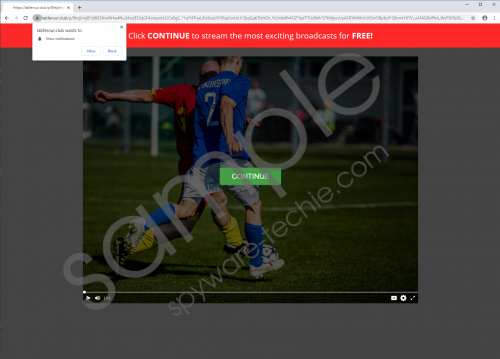 Megmobpoi.club screenshot
Scroll down for full removal instructions
The bottom line is that you should NOT trust websites, services, and notifications in any way related to the Megmobpoi.club adware server. Hopefully, there is no malware that you need to delete from your system, and the only thing you need to do is disable unwanted notifications or reset the affected browser. The instructions below show you how to do both of these things, but we suggest resetting your browsers for a full cleanout. Obviously, if you discover that you need to delete Megmobpoi.club-related malware – which you can determine with the help of a legitimate malware scanner – you should perform the removal as soon as possible. Note that you can always rely on anti-malware software to automatically remove all threats as well as to secure the operating system against malicious attacks.
Remove Megmobpoi.club
Mozilla Firefox
Open the browser and tap keys Alt+T to open the Tools menu.
Select Options and then open the Privacy & Security (select from the menu on the left).
In the History menu, click the Clear History button.
Choose a time range, mark boxes, and then click the Clear Now button.
In the Permissions menu, find the Notifications section, and click the Settings button.
Select the undesirable website and then click the Remove Website button.
Google Chrome
Open the browser and tap keys Alt+F to open the Chrome menu.
Click Settings, scroll to the bottom, and then click Advanced to see more options.
In the Privacy and security section, click Clear browsing data.
Choose a time range, mark boxes, and then click the Clear data button.
Back in the Settings menu, click Site Settings, and then move to Notifications.
Find the undesirable website, click the three-dots icon on the right, and click Remove.
In non-techie terms:
The instructions above show how to disable notifications and reset Mozilla Firefox and Google Chrome web browsers. If you have accidentally enabled Megmobpoi.club-related notifications, you ought to disable them immediately; otherwise, you are likely to be bombarded with ads, and they might be very unreliable. Of course, in such a case, we advise resetting browsers altogether to ensure that there are no intrusive data-tracking tools left behind. In the future, be very mindful about the websites you visit or are redirected to, and do not enable any notifications without researching the matter first. If you have interacted with suspicious ads already, make sure you scan your system to see whether or not you need to delete Megmobpoi.club-related threats. Do not skip this step.