Do you know what MediaStart is?
MediaStart is a potentially unwanted application that functions as a browse extension. It should help you access the latest music and videos a lot faster, right from your homepage. However, our research team would like to point out that this application might have certain features that you neither need nor want. Hence, if you care about your system security, you should remove MediaStart from your browser today. It is very easy to delete the extension via your browser's settings, or you can reset your browser to default by following the guidelines below this description.
It wouldn't be surprising if some cybersecurity outlets were to call MediaStart a browser hijacker. It is very often that browser extensions are mistaken for browser hijackers because of the modifications that they perform. Normally, a browser hijacker slithers into a target system surreptitiously, and it performs a number of changes on the default browser without user's permission. A browser extension, however, modifies browser settings WITH user's permission, although users are often not aware of that. Now, why does that happen? It happens because MediaStart and other similar application could be added to the browser accidentally.
While it is true that we can find MediaStart on the Chrome Web Store (which clearly shows that the application is not a malicious infection) it is far more likely that this application reaches its targets in other ways. Potentially unwanted applications employ multiple distribution methods. For instance, they could come bundled with freeware; they could be added to the Chrome browser via random pop-ups or redirects. It means that users may add MediaStart accidentally, especially when random pop-ups can be quite intrusive and annoying. It might be hard to close some of them unless you click that Add button.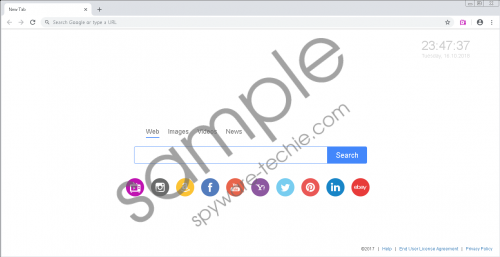 MediaStart screenshot
Scroll down for full removal instructions
Also, MediaStart might come bundled with freeware. So if you have recently downloaded some freeware application from a file-sharing website, this extension was probably part of the package. Normally, it should be possible to avoid adding unwanted applications, but if you skip installation steps just so you could get to the finish line, MediaStart and other unwanted apps will definitely enter your system. This is also one of the reasons it is a good idea to scan your computer with a licensed antispyware tool once in a while. You can never know how many unwanted programs might be running on your system at the moment.
So, what does MediaStart do to make it look like a browser hijacker? Well, browser hijackers usually change the default homepage and search engine settings. MediaStart does not change the search engine settings, but it does modify the homepage and new tab settings. At first, it might not look like a big deal because the new homepage looks like a decent search engine suggestion, along with shortcuts to YouTube, Instagram, Amazon, Facebook, Yahoo!, Twitter, and other popular websites. But the question is whether you really need those shortcuts when you can simply create your own shortcut bar on your browser.
Also, it is very likely that MediaStart will display commercial ads. Most of the extensions do that, and it is only natural that they indulge in third-party advertising because they need to make some money after all. But the problem here is that MediaStart might monitor your online activity to customize those ads according to your likes and preferences. Although this kind of practice is perfectly normal, MediaStart cannot guarantee that the commercial content you encounter is perfectly safe. After all, these extensions do not review the content they promote. Consequently, if a malevolent third party exploits this vulnerability, MediaStart may inadvertently become a malware distributor, too.
To avoid such consequences, you can remove MediaStart today. Although we have already mentioned that you delete this application via your browser's settings, it would be for the best to reset your browser settings to default. Let's not forget that there could be more unwanted extensions added, and by resetting your browser, you would terminate them all at once.
After that, you should consider investing in a security tool that would secure your system against all sorts of threats. What's more, do not forget that you should be careful about the websites you access and the files you download because you can never know when similar apps try to access your system again.
How to Reset Your Chrome Browser
Press Alt+F and select Settings.
Click Advanced at the bottom of the page.
Click Restore settings to their original defaults at the very bottom.
Press Reset settings to confirm.
In non-techie terms:
MediaStart is not a security threat, but it could be one if it is exploited by malevolent third parties. This browser extension might have been added accidentally, and if you do not need it, you should definitely remove it right now. The presence of this browser extension may indicate the presence of several other unwanted applications, so you might want to run a full system scan right now. For any other questions, please feel free to drop us a comment.