Do you know what MediaPlayerZ is?
We identify MediaPlayerZ as a potentially unwanted program that you should remove from your system because this player is not reliable compared to other similar media applications. As this program does not have the official site where it is distributed directly, you are likely to come across MediaPlayerZ while looking for software on unreliable file sharing sites, or clicking on the links promoting unrecognized applications. Though MediaPlayerZ has a separate installer, there is still a possibility that you can drop this player to your system bundled with other additional software; thus, be vigilant when installing freeware programs found on the web. All in all, the fact that this program does not rely on the direct channel of distribution is already reason enough to assume that it is not worth your trust. So, it is best that you delete MediaPlayerZ and find another legitimate video player to enhance your video viewing experience.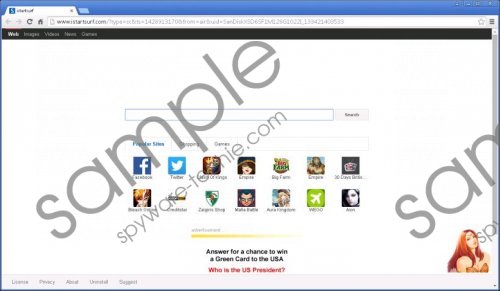 MediaPlayerZ screenshot
Scroll down for full removal instructions
What makes this program especially alarming is that it tries to sneak onto target system under a guise of a legitimate Windows Media Player Classic. This program saves its main files in a backup folder in the Windows folder, while the folder in Program Files is employed to pass MediaPlayerZ off as a legitimate program. The user-friendly software would never hide from its users, or employ other tricks to prolong its existence on target system; therefore, install the best antimalware software to make sure it finds and deletes MediaPlayerZ before this program compromises the security of your computer.
Even if you somehow overlooked the installation of MediaPlayerZ, it will announce its presence on your computer by hijacking your web browser. Thus, whatever your default homepage or search engine is, it will be automatically switched to istartsurf.com. The icons and ads on the site already imply that this page should not be trusted, so avoid clicking on any of the promoted links, especially the ones that might be presented alongside the search results.
There are so many reasons why you should not tolerate this potentially unwanted program on your system. If you do not remove it right now, it will bother you with unpredictable commercial ads seeking to take you to the promoted third-party sites. What's more, this program is known to auto start with Windows and activate a relatively high number of processes that might take a toll on the general performance of your system. If you want to make sure this program does not engage in any questionable activities in the background, you will need to remove MediaPlayerZ and restore the previous condition of your computer.
The manual removal of this potentially unwanted program is not recommended as it does not show up on the program list in Control Panel. Due to this fact it might be difficult to locate and remove all the necessary files one by one. For this reason we strongly encourage you to install a licensed malware scanner that will identify malicious content without any trouble, thereby cleaning up your PC not only from MediaPlayerZ, but also other additional threats.
Removal guide
Open your web browser.
Go to http://www.spyware-techie.com/download-sph to download a legitimate antimalware tool.
Follow the on-screen instructions to install the program.
Open the program, run full system scan and click Fix Threats to remove the infections.
In non-techie terms:
MediaPlayerZ is a potentially unwanted program that you should remove from your PC. It is aggressive and intrusive, properties intrinsic to unwanted or malicious applications, so you should not allow its presence on your system. If you delay to terminate this program, it is possible that the overall health of your computer will be compromised. It is best that you equip your system with a professional antimalware program that will locate and terminate this program in no time.