Do you know what the Mediahit Browser is?
The Mediahit Browser is a free Internet browser build in the Chromium platform, which is known to have been used by questionable software developers. The Mediahit program has an official website browser.mediahint.com but is distributed by software installers promoting several freeware programs. It has been found that the Mediahit Browser is distributed alongside adware programs and malware programs, so, if you have this browser on the computer and cannot browse the Internet as usual because of annoying pop-up windows, it is time to reconsider your browsing behavior and pay more attention to your online privacy.
We advise you against browsing unsecured websites, because they may cause the installation of various unreliable programs. If you access a freeware distribution website, do not install unknown programs without doing any research on them. For example, the Mediahit Browser may seem to be an appealing and useful program, but the truth is that some of the files of this program are infected with malicious programs such as ZvuZona, LoadMoney, etc, which may have some effect on your privacy and the performance of the PC.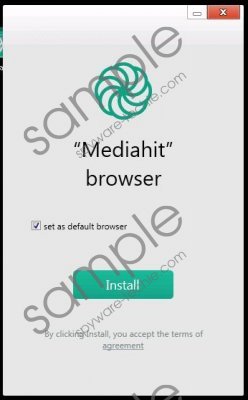 Mediahit Browser screenshot
Scroll down for full removal instructions
Moreover, when installing any free program, you should pay close attention to the installation process. For example, the installer of Mediahit features a box that asks the user whether he/she wants to set Mediahit as the default browser. In order to prevent this change, it is necessary to uncheck the box. All in all, we recommend that you remove Mediahit Browser from the system, and, the sooner you do it, the better.
Mediahit Browser was published by Portland Media LTD, but the files of the program are signed by LLC Pentagon. This potentially unwanted program is detected as unreliable by over 5 security programs, and can be detected as PUP.Pentagon.P, Signed-Downware.ZvyZona, Win32.Trojn.Generic.a, etc.
The Mediahit Browser has its uninstaller, which you can find in the Uninstall a program/Add or Remove Programs applet. In case you want to try removing the Mediahit program by yourself, you can use the following instructions, but we recommend that you implement a reputable security program. Your operating system needs protection against malware and spyware threats, so we recommend that you implement SpyHunter, which can remove the unwanted program and easily fight off multiple malicious programs.
In non-techie terms:
The Mediahit Browser is a potentially unwanted program (PUP), and we recommend that you remove it from the computer as soon as you can. As mentioned above, some of its files are infected, and, if you want to protect your privacy, you should take appropriate measures right now. We recommend using SpyHunter, and you can install this program using our instructions provided below. In case you have any questions, feel free to leave a question below.
Windows 8
Press Win+R and enter control panel.
Click OK.
Select Uninstall a program.
Remove the unwanted application.