Do you know what Mediafiretrend.com is?
Our research lab categorizes the Mediafiretrend.com website as a part of a browser hijacker. A browser hijacker is a type of potential computer security threat that modifies your default browser settings without your permission for monetary purposes. If you see this address on your browser, but you certainly do not remember adding this "search engine" yourself, it is clear that you have to remove Mediafiretrend.com from your computer ASAP. The longer this program remains in your system, the more damage it may cause. Even if a browser hijacker is not a genuine malware infection, it still should not be taken lightly.
Like most of the programs of similar profile, Mediafiretrend.com affects the three main browsers: Internet Explorer, Firefox, and Chrome. It does not work on the Edge browser yet, but once the browser grows enough to have a bigger share in the overall web browser market, you can be sure that it will be targeted by similar applications, too.
Technically, this program should help you look for media files. So, rather than a general search engine, Mediafiretrend.com should work like a tool that searches only for media files of a specific format. And we are not talking about the entire web here. As you can probably tell from its name, the hijacker would only search the Mediafire file-hosting page. So, the activity scope of this program is very limited, and it is highly unlikely that you could make a great use of it. Thus, we can assume that this program entered your computer without your permission, and now you have to deal with this issue on your own.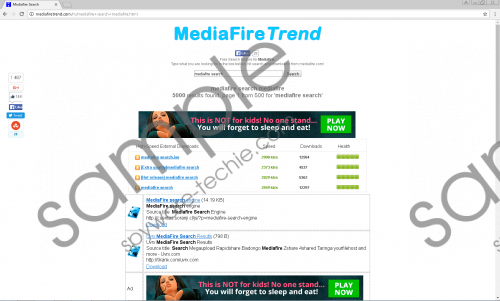 Mediafiretrend.com screenshot
Scroll down for full removal instructions
However, if you did not add Mediafiretrend.com to your browser willingly, how did this domain appear there? The sad truth is that users often end up installing unfamiliar and unwanted programs when they download freeware from file-sharing websites. Users seldom understand the risks behind such practices because it looks like there could be nothing wrong with the third-party installer they encounter.
Unfortunately, if you do not read all the steps in the installation wizard, programs like Mediafiretrend.com will easily enter your system together with the application you wanted. It also allows us to assume that there are several undesirable programs on-board, and all of them might be slowing down your system performance, collecting information on your web browsing habits, and engaging in other potentially harmful activities.
As far as Mediafiretrend.com is concerned, you will know at once that this browser hijacker has entered your computer. The program modifies your default homepage and the new tab settings. What's more, we know that the domain's IP address via 208.43.10.182 is often used for unwanted software distribution. This address has been detected by security program several times already, and it means that this browser hijacker could be part of a bigger malware distribution network, as well.
Another thing that is really annoying about Mediafiretrend.com is that it displays a lot of third-party commercials. When you open the website, you will see a lot of pop-ups and other types of ads. Browser hijackers allow third parties to use their advertising space for free because the people behind such applications get paid whenever you click these third-party ads. As a result, almost anyone can promote their content via Mediafiretrend.com because this program does not check the reliability of the said commercial content. What happens if cyber criminals decide to use this browser hijacker, too? Then you will definitely get exposed to malicious content first-hand, and a malware infection will be just a click away.
Needless to say, you have to avoid such risks by removing Mediafiretrend.com today. You should not encounter any problem as you restore your homepage and delete all the browser hijacker's files manually. However, if you think there are a lot of other dangerous programs on your computer and you do not know where to start, you can invest in a licensed security application to do the job for you.
It is not just about this browser hijacker. You have to understand that cyber criminals will continue trying to reach and enter your computer, as long as you use the Internet. Thus, you need a powerful guardian to safeguard your system against potential cyber threats, and an antispyware program of your choice will definitely help you with that.
How to Remove Mediafiretrend.com
Internet Explorer
Press Win+R and type regedit. Click OK.
Go to HKEY_LOCAL_USER\Software\Microsoft\Internet Explorer\Main.
On the right side, right-click the Start Page value.
Select Modify and change your homepage address. Click OK.
Chrome
Press Win+R and enter %LocalAppData%. Click OK.
Navigate to Google\Chrome\User Data\Default.
Find and remove these files: Preferences, Secure Preferences, and Web Data.
Firefox
Press Win+R and type %AppData%. Press Enter.
Go to Mozilla\Firefox\Profiles\[User ID].
Open the prefs.js file with Notepad.
Find and delete the following string: user_pref("browser.startup.homepage", "http://Mediafiretrend.com");
Save changes and exit the file.
In non-techie terms:
Mediafiretrend.com is a domain used by a potentially harmful program that can modify your browser's settings. This settings modification occurs because the browser hijacker wants to make easy money using your web browsing habits. Unless you remove Mediafiretrend.com immediately, you will soon encounter a lot of dangerous cyber content that could easily lead to a severe malware infection.