Do you know what MediaConverterOnline Promos is?
MediaConverterOnline Promos is an extension that is introduced at mediaconverteronline.com and can be downloaded from the Chrome Webstore, at chrome.google.com/webstore/detail/mediaconverteronline-prom/ocmddfoccjoifjbgbhknealbdgifmldl. If you install this extension, you have to agree to have your browsing history read. That is the only permission that the PUP (potentially unwanted program) requests, and most users might not even blink an eye at that. In fact, nearly 26,000 users have not so far. Well, if you allow someone you do not know to read your browsing history, you can expect intrusive behavior, and whether or not you are okay with it depends on your boundaries and expectations. You might expect great services from the suspicious extension, and so you might choose to give it the permission to, essentially, spy on you. If that is something you want to stop, you might decide to remove MediaConverterOnline Promos.
Were you introduced to MediaConverterOnline Promos via a pop-up or advertisement when browsing the web? That could have been the case, or you might have come across the program when researching ways to shop online more efficiently. This extension promises to provide you with "relevant ads." Now, most users choose to install ad-blocking extensions because they are bothered by banners, pop-ups, and other types of online advertising. However, if you shop online frequently, you might be used to finding different deals via ads found on different websites, including social media platforms. As you must already know, the ads shown to you usually coincide with the content you have interacted with already. So, for example, if you were looking up shoe sales, more ads related to shoes might show up. That is how MediaConverterOnline Promos works too. If you do not delete this program, it reads your browsing history to see what you are searching for.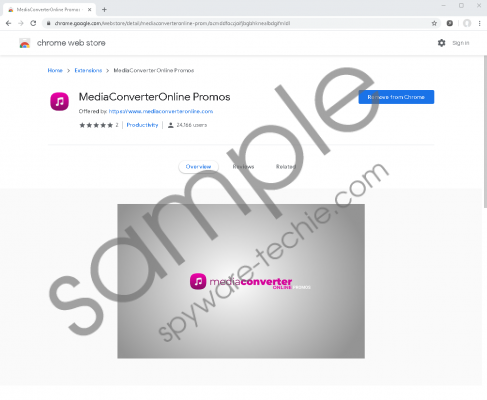 MediaConverterOnline Promos screenshot
Scroll down for full removal instructions
The problem with PUPs and adware (advertising-supported software) is that they usually serve third parties and not the person seeing the final ad. What if the ads shown to you by MediaConverterOnline Promos redirect to unreliable websites or promote fake deals? Unfortunately, there are plenty of schemers online who are preying on gullible people. They sometimes set up fake websites that can imitate shopping platforms, discount websites, fund-raising initiatives, and so on. Such websites can be used to trick people into spending money on bogus products, spending more money on things that are generally sold at a lower price elsewhere, or disclosing private information. We cannot claim that that is the content that you would face if you interacted with MediaConverterOnline Promos ads, but that is something you want to think about if you choose to use this PUP. The least you could do is analyze the privacy policy supporting it.
Do you want to delete MediaConverterOnline Promos from your operating system? If that is your final choice, we suggest that you also clear the browsing data to ensure that no cookies are left behind to collect and store information about you and your shopping or browsing habits. Luckily, deleting unwanted add-ons and clearing browsing data is very easy to do. Just in case you downloaded MediaConverterOnline Promos via a third-party installer along with other suspicious programs, we advise scanning the system with a trusted malware scanner and, perhaps, installing a trusted anti-malware tool to have your system cleaned automatically. If there is anything you would like to discuss with our research team, leave a comment below.
Remove MediaConverterOnline Promos
Open the Google Chrome browser.
Tap Alt+F keys together to launch the Chrome menu.
Click More tools and then Extensions.
Remove the undesirable extension.
Tap Alt+F keys again and click Settings.
Click Advanced at the bottom.
Click Clear browsing data under Privacy and security.
Select a time range and mark the boxes.
Click Clear data and then restart the browser.
In non-techie terms:
Some users might find MediaConverterOnline Promos very intriguing and perhaps even useful. In reality, it is just another potentially unwanted program (PUP) that shows ads. You might think that the ads shown to you can help you find better deals online, but you have to be very cautious about the offers and links that these ads might introduce you to because you do not want to be scammed. It is also important to think about your virtual security overall when dealing with this PUP. To show you personalized ads, it can record and analyze your browsing history, and can you be sure that this information could not be used to jeopardize your security? If you ever have doubts about the services you are interested in using, it is best to look for services that would leave you sure and secure. If you decide to delete MediaConverterOnline Promos, use the manual removal guide above, or install anti-malware software for automatic removal.