Do you know what Media PlayerVidEd is?
Media PlayerVidEd is one of those adware applications that annoy computer users all over the world with commercial adverts for stuff that they think you might need. While some ads could be tempting, it's better to stop yourself from clicking them, because they could lead to dangerous third-party websites. It's best to remove Media PlayerVidEd from your system to avoid the temptation altogether.
After getting installed on your system, Media PlayerVidEd will create its own extension on Internet Explorer or Mozilla Firefox browsers. Using the access it gets, this adware will monitor your Internet activities, paying attention to your search history, websites you visited, items you looked at online shopping websites, etc. This is all done to accurately predict the type of ads that would catch your attention. Needless to say, this information could be dangerous in the wrong hands, so you should be cautious and uninstall Media PlayerVidEd.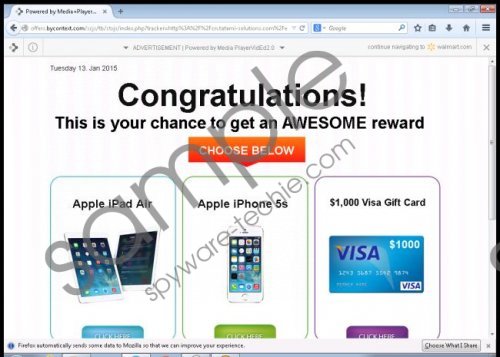 Media PlayerVidEd screenshot
Scroll down for full removal instructions
Once you click an ad provided by Media PlayerVidEd, its developers get paid a small sum of money for increasing the web traffic to that particular website. This is known as a pay-per-click agreement. This scheme is universally used by adware developers to monetize their advertisements. It is also the main reason for the flood of ads that makes computer users wish they knew how to delete these applications.
Our problem with this model of making profit is that the user who clicked an ad gets nothing for it in the best case scenario. What is the worst case? Your system could get infected by difficult to remove malware on some untrustworthy third-party website. Seeing as malware has a tendency to open up your computer to more threats, which will themselves resist your attempts to delete them, you can never know if you're completely safe after getting your computer infected once. We recommend downloading an automated malware removal program to deal with this uncertainty.
Media PlayerVidEd is distributed using bundles of free software. It works by attaching several optional applications to the installer of a program that people might actually like to use. You have to specifically decline these options. Because people rarely pay attention, several applications you will have to delete later might find their way onto your computer. If you're not careful, you might have to waste a lot of time trying to remove them.
Once you're ready to delete Media PlayerVidEd, there are two ways to do it. You can either get rid of it manually or automatically. The advantage of automatic removal is that the antimalware tool you choose for this process will scan your entire system, find all threats and remove them. If you decide to uninstall Media PlayerVidEd by hand, only this particular annoying application will be removed. You can never know how many threats remain unless you install a malware scanner. Either way, the instructions for manual removal of Media PlayerVidEd are provided below.
Removal of Media PlayerVidEd
Windows XP
Click Start and go to Control Panel.
Go to Add or Remove Programs, select Media PlayerVidEd, and click Remove.
Windows 7 and Windows Vista
Click the Windows button and go to Control Panel.
Go to Uninstall a program, select Media PlayerVidEd, and click Uninstall.
Windows 8
Right-click the bottom-left corner of your Desktop and go to Control Panel.
Go to Uninstall a program, select Media PlayerVidEd, and click Uninstall.
In non-techie terms:
Media PlayerVidEd is an adware application that tracks your browsing and shows you targeted commercial ads. While the developers of this program earn money with each ad you click, you get nothing in return. If you have Media PlayerVidEd on your computer, chances are that there are more undesirable programs . To remove all of them, get a professional antimalware tool or try doing it manually.