Do you know what MBRlock Ransomware is?
MBRlock Ransomware is not a program that you want to have up and running on your operating system. It is critical to do so because this intrusive application can act in an incredibly malicious manner. If you are not acquainted with ransomware programs, you must know that they are infamous for their ability to lock a vast amount of data without any notification or authorization. Malware developers often use such invasive applications to make illegal profits from unsuspecting Internet users. The scheme under which such dubious programs operate is quite simple. Upon intrusion, it locks your data and then asks for ransom in return for decryption process. If you want to find out more about the inner workings of this malware, be sure to read the rest of this report. We also provide a few virtual security tips to help you maintain a secure operating system at all times. Finally, to help you delete MBRlock Ransomware, we include a comprehensive removal guide.
Malware researchers at Spyware-Techie.com have discovered that MBRlock Ransomware primarily targets users located in China. Even though that is the case at the moment, you must know that it could spread elsewhere; thus, being aware of this malicious program's existence and keeping your PC secure at all times is paramount. During further analysis, it has been found out that this malware has been crafted using C++, which indicates that it affects all currently active Windows operating systems'. It is also critical to note that this ransomware functions in a somewhat unorthodox way. Unlike its contemporary counterparts, this invasive piece of software modifies the Windows MBR (master boot record), without any notification or authorization whatsoever. Due to that, your operating system will not start; instead, during startup, you will see a ransom note. That is done so users affected by this invasive piece of software would not interfere with its devious inner workings. However, our research team has discovered that this ransomware might not start the encryption procedure, which indicates that it might be under development. Keep in mind that if it starts acting in the way it should, you might have to face devastating outcomes, to put it lightly. Make sure to delete MBRlock Ransomware if it is ever found active on your PC without any hesitation. To do that in just a few simple steps, make use of the instructions below. If you fail to terminate it, your PC and data will remain in danger.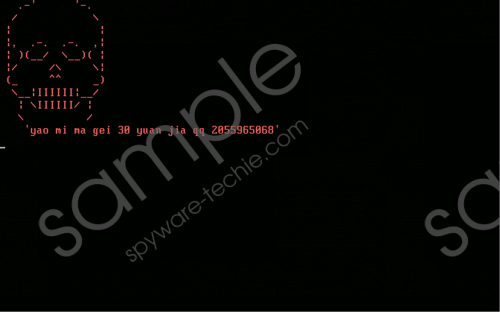 MBRlock Ransomware screenshot
Scroll down for full removal instructions
If you want to have a safe and secure operating system, you need to take a few preventative measures. Since malware developers often use devious methods of distribution, we highly advise you to practice safe browsing habits at all times. It is imperative to refrain from all questionable download sites because they are infamous for being the primary source of bundled installers, which malware developers often use for distribution purposes. You must also know that cyber crooks often use spam email campaigns to spread their invasive software on a large scale. Therefore, we highly advise you to bypass all email attachments that come your way from unknown third-parties. Furthermore, we recommend learning as much as you can about any program before downloading and installing it on your computer. Doing so is critical because malware developers tend to use manipulative and otherwise misleading marketing tactics to lure naive Internet users into obtaining their suspicious programs. Finally, and most importantly, be sure to install a professional antimalware tool since it provides overall system security at all times; it can detect and delete any virtual security threat automatically.
A thorough removal of MBRlock Ransomware should be your utmost priority if it is ever found active on your computer. Be sure to follow each step with care since a mistake could result in an incomplete removal, which might have undesirable outcomes. That is so because traces of this ransomware could act deviously. For instance, its leftovers could be used to restore it silently. In other cases, those same traces could be enough for MBRlock Ransomware to continue working. If you wish to avoid finding yourself in such a situation, make sure to recheck your operating system for anything associated with MBRlock Ransomware as soon as you are done with the instructions below. By doing so, you will be sure that the termination has been successful.
How to remove MBRlock Ransomware from your PC
Type ssssss and then tap Enter on your keyboard.
Open your File Explorer.
Go to C:\Users\(your username)\Downloads.
Select a malicious .exe file and then tap Delete. Note that the name of this file is random.
Close your File Explorer.
Right-click your Recycle Bin and then select Empty Recycle Bin.
In non-techie terms:
Some users might find manual removal a bit too complicated. Our malware experts are well aware of that. Due to that, we provide an alternative removal guide below. Be sure to follow these instructions with care and you will be able to delete MBRlock Ransomware automatically.