Do you know what May Ransomware is?
May Ransomware is a malicious computer infection that has been created to rip innocent users off. As you can possibly tell, it is a ransomware program, and so it can encrypt your files and then demand that you pay the ransom fee. Ransomware is the probably the most prominent infection type right now, so it is no surprise that the likes of May Ransomware pop up almost every single day. While it is possible to remove this infection from your computer, you have to understand that part of your personal data could be permanently lost.
To avoid potential data lost, you have to take precaution measures. For instance, it is always a good idea to keep a file backup. You can store healthy copies of your files on an external hard drive, or somewhere on a different network. Big companies and corporations tend to back up their data because of potential security risks, but individual users forget to do that because hard drives do not crash as often as before. Either way, it is important to understand that everyone is vulnerable to ransomware infections, so it is better to be safe than sorry.
Aside from backing up your files, you should also take note of the potential malware distribution routes that could be used by the criminals to reach you. Ransomware programs tend to be distributed via spam email messages, as they come in mail attachments. However, that is not the only way for a ransomware program to enter your system. It could also land via a drive-by download or a website exploit kit. The point is that users need to be careful when they encounter unfamiliar content. Do not interact with it unless you know for sure that it is not dangerous. Please remember that if your computer is part of a network, by getting infected with ransomware, you might end up infecting all of the other computers on the network. And you most certainly would not want that.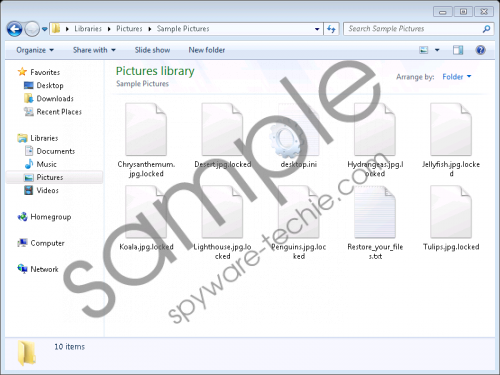 May Ransomware screenshot
Scroll down for full removal instructions
When May Ransomware enters target computer, the program scans for the files it can encrypt. Different ransomware programs encrypt different types of files. This application is known to affect document and pictures files. That is not surprising because those are probably the most commonly accessed files on an individual personal computer. Hence, when programs affect the files you need the most, there is a bigger chance that you might end up paying the ransom fee.
Do you really have to pay the fee, though? Most definitely not. Unfortunately, there is no public decryption tool that would allow users to decrypt the files affected by the infection, but please note that paying the money does not guarantee you would get our files back, too. Hence, no matter what May Ransomware might tell you, you should keep your money to yourself.
Of course, the infection will tell you that you have five days to decrypt your files. If you fail to transfer the ransom within the given time frame, the people behind May Ransomware threaten to delete your files for good. But again, this should not push you into giving away your money.
Instead of doing as you are told, you should focus on removing May Ransomware from your system. The problem with ransomware removal is that this infection usually drops a random-name file in multiple directories, and you need to remove them all. We will give you the list of directories you need to scour to look for the malicious files. You will also have to check out the Windows Registry for the entries made by this infection.
If you are not too comfortable with the manual removal, you can always invest in a legitimate antispyware tool that will scan your PC and will detect all the malicious files immediately. Once again, a computer security tool will not retrieve your encrypted files, but you need to delete May Ransomware from your system before your transfer the healthy files back.
All the encrypted files will have the .locked extension added to their filenames, so it will be easy to recognize and terminate them. Ransomware infections are highly prevalent, and they are hard to battle, but that should not discourage you. Do your best to protect your data from similar infections, and you might avoid another one in the future.
How to Remove May Ransomware
Press Win+R to open the Run prompt.
Access the following directories:
%ALLUSERSPROFILE%\Microsoft\Windows\Start Menu\Programs\Startup
%APPDATA%\Microsoft\Windows\Start Menu\Programs\Startup
Look for a random-name EXE file and delete it.
Press Win+R again and type %WinDir%. Click OK.
Check Syswow64 and System32 folders for the same file.
If present, delete the EXE file.
Press Win+R and type regedit. Click OK.
Go to HKEY_LOCAL_MACHINE\SOFTWARE\Microsoft\Windows\CurrentVersion\Run.
On the right-side, right-click and delete the entries with this value data:
%WINDIR%\Syswow64\*.exe
%WINDIR%\System32\*.exe
Scan your PC with SpyHunter.
In non-techie terms:
May Ransomware is a dangerous program that targets your money. It will encrypt your files hoping that you will pay the ransom fee. Although it is not possible to decrypt your files right now, you need to remove May Ransomware immediately with a powerful security tool. If you have a file backup, you can restore your locked files. However, your biggest security concern right now is to prevent similar infections from entering your system again.