Do you know what Maxi Buy is?
Have you downloaded Maxi Buy onto Google Chrome, Mozilla Firefox, or Safari web browser? If you have, you must have done that purposefully or by accident. According to our research team, this PUP (potentially unwanted program) is unlikely to be installed without the user's permission, and so if you do not remember letting it in, it is most likely that you were simply careless during the installation. In any case, you have to be cautious about how you interact with this extension. If you continue using it, you will be continuously exposed to third-party websites, and information about you will be recorded. If you remove it, you will no longer have easy access to allegedly beneficial shopping deals. Our team has analyzed the PUP, and the recommendation is that you delete Maxi Buy. If you need more information before you can make your decision, keep reading.
Anyone can download Maxi Buy from the official website (maxi-buy.kreativcdn.net) and the Chrome web store (chrome.google.com/webstore/detail/maxi-buy/glfmbnjhfdnblpgihgcflmnjbpoaegna). All that the user needs is to have a compatible web browser. Speaking of that, at the moment, only Chrome users can acquire the extension; and it is unclear whether it is still being developed or if it is not being supported properly. In any way, the program is free. Are you familiar with the concept of nothing being free? Some even say that if the product or service is free, the customer becomes the product, and Maxi Buy certainly exploits its users. The extension was not created to assist users by presenting them with great shopping deals. Instead, it was created to act as an advertising tool, and it can bring in a profit only if the user interacts with the ads that are shown to them. Although we cannot say that the PUP is malicious or that the ads it presents only route to malicious websites, there is no denying that its services are not that useful, and removing the extension might be the best move.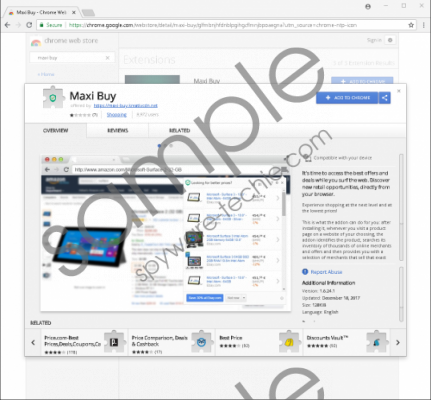 Maxi Buy screenshot
Scroll down for full removal instructions
It would be wrong to say that Maxi Buy does not work. If you install this extension, it tracks your activity to see when you browse shopping or product websites to jump into action. The main goal for this strange app is to find "better" deals, which means that if the product you are looking at is, for example, $100, a pop-up at the top should list links to websites where the same product can be purchased for less. If you go to these websites, most likely, you would be asked to sign up, disclose personal information, and, possibly, download other extensions or programs. Unfortunately, it is always possible that Maxi Buy could route to less reliable websites, which is why you must be cautious about how you interact with the allegedly beneficial deals. Needless to say, if you do not want to be bothered by pop-ups and advertisements in search results, you will, most likely, choose to delete the potentially unwanted program.
Are you choosing to remove Maxi Buy? You will not lose anything by doing that, and we are sure that you do not need to install extensions or applications to help you find the best deals at all. At the end of the day, all of these tools are partnered up with certain websites and service providers, and so their offers are limited. If you do your own research, you are more likely to find amazing deals. Of course, you always need to be careful because you do not want to fall into the trap set up by schemers. If you want to delete Maxi Buy and ensure protection against unwanted programs and scams in the future, we advise implementing anti-malware software. Alternatively, you could erase the PUP yourself using the guide posted below. Just make sure to protect your system as well afterward.
Delete Maxi Buy from browsers
Google Chrome
Open Chrome and enter chrome://extensions/ into the address bar.
Click the Remove button next to the PUP.
Mozilla Firefox
Open Firefox and enter about:addons into the address bar.
Click the Remove button next to the PUP.
Safari
Open Safari, click Safari at the top, and select Preferences.
Click Uninstall next to the PUP.
In non-techie terms:
Maxi Buy is meant to offer you great deals, and because the program is free, you might be intrigued by it. If you install this potentially unwanted program, it will record information about your activity to deliver offers from the partners of its creator. Although it is advertised as this amazing shopping deal app, it is unlikely that it can find better shopping deals than you would find yourself. On top of that, the websites the PUP redirects to could be unreliable. Due to these reasons, it might be best to remove Maxi Buy, and you can do it manually or with the help of an anti-malware program. We recommend choosing the latter option because you could really use the system protection this program can produce.