Do you know what MarioLocker Ransomware is?
MarioLocker Ransomware encrypts files with a robust encryption algorithm and leaves a message that says data was "locked by Mario." Another detail that may allow you to identify this malware on your system is a particular extension that ought to appear on all encrypted files. This extension should consist of a word wasted and a number, for example, panda.jpg.wasted10. The strangest part is that this malicious program does not show messages asking to pay for decryption. They do not contain any information that would allow contacting the malware's creators either. If you want to know why the threat might work this way and how to get rid of it if it enters your system, we invite you to read our full report. Also, if you are interested in erasing MarioLocker Ransomware, we can offer our removal guide available at the end of the main text.
Our computer security specialists think that MarioLocker Ransomware might not show a messaging asking to pay a ransom because it might be still unfinished. If this is true, we do not believe the malware would be spread yet. We come across test versions quite often, so it would not be a surprise that its sample was already available. Ransomware applications that are ready to be used for money extortion are often disguised as software installers, documents, and other files that most users would not consider to be dangerous. Therefore, it is best not to take any chances and scan all data received from unreliable websites with a reputable antimalware tool. If a file is identified as dangerous, your chosen security tool ought to help you get rid of it. Another thing that we recommend for those who want to keep away from infections like MarioLocker Ransomware is to be careful with all emails that carry attachments. You should scan such data with an antimalware tool too.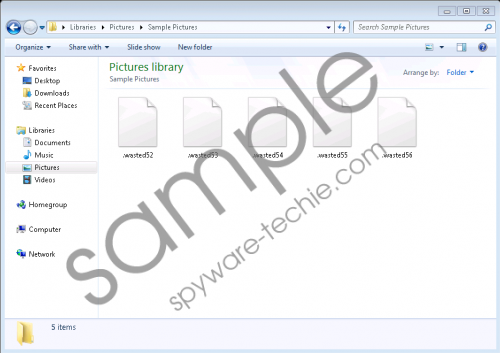 MarioLocker Ransomware screenshot
Scroll down for full removal instructions
If a victim gets tricked into launching MarioLocker Ransomware, the malware should start with checking all files located on a user's computer. After identifying data that it can encrypt, it should begin to encipher files one by one. Sadly, the threat seems to have a massive list of files that it should encrypt, which means a lot of your files or possibly almost all of them might become locked as soon as the infection is done. The malware may need an Internet connection to encrypt files as it seems to be programmed to connect to the Internet without a user's permission. We cannot be entirely sure, but this might mean that it could be possible to stop the encryption process if a user would turn off his device and disconnect it from the Internet. The bad news is that MarioLocker Ransomware might work silently, and it might be hard to notice what is happening. After encrypting files, the threat should create a document called YourFiles.txt with a list of encrypted data and a note titled @Readme.txt.
The threat's note should say: "You'r files has been locked by Mario." Next, it might ask to open a particular file called WastedBitDecryptor, but our researchers say that the malicious application did not create such a file. It is likely that if the malware is still unfinished, it could drop such a file only when it gets updated, and it may contain its creator's demands to pay a ransom. We advise against putting up with any requests from cybercriminals if you fear being scammed because hackers could do so. If you want to erase MarioLocker Ransomware instead, we advise using the removal guide available below or a reputable antimalware tool.
Delete MarioLocker Ransomware
Restart your computer in Safe Mode with Networking.
Click Windows Key+E.
Navigate to the suggested paths:
%TEMP%
%USERPROFILE%Desktop
%USERPROFILE%Downloads
Find a recently downloaded suspicious file that is likely to be the malware's source, right-click the malicious file, and select Delete.
Look for the infection's ransom notes (@Readme.txt); they might be on your Desktop and locations containing encrypted data.
Right-click ransom notes and press Delete.
Go to: %WINDIR%\Temp
Find a file called YourFiles.txt, right-click it, and choose Delete.
Exit File Explorer.
Empty Recycle bin.
Restart the computer.
In non-techie terms:
MarioLocker Ransomware seems to be a ransomware application that shows a note, which does not say anything about having to pay a ransom. Such behavior is odd because most of such malicious apps are used as tools for money extortion. However, the malicious application is capable of encrypting files to take them as a hostage. As mention in the text above, this ransomware program could be still unfinished. Thus, there is a chance its developers may yet include text in its ransom note that would explain how to contact them or pay for getting decryption tools. Of course, we do not recommend dealing with cybercriminals as you cannot know if they will hold on to their end of a bargain. We always recommend users who do not want to risk their money to erase such threats. To delete MarioLocker Ransomware manually, you could complete the steps provided in our removal guide. If you find this process to be a bit too challenging, we recommend employing a reputable antimalware tool that could take care of the infection for you.