Do you know what Mancrosai4939 Ransomware is?
If you ever come across a program that goes by the name of Mancrosai4939 Ransomware, make sure to avoid it at all times. Even though its unconventional functionality signifies that it is still in its testing phase, you should take all possible action to avoid it. This is important because the devious program in question could sooner or later prove to be dangerous. Thus, to keep your computer safe at all times, we present a few precautionary tips from our malware experts that will help you suspicious and even malicious applications at all times. In addition to such crucial information, you will also find further information about the devious functionality of this ransomware gathered by our researchers. If, unfortunately, you already have Mancrosai4939 Ransomware up and running on your personal computer, be sure to execute its complete removal by following the detailed instructions below.
At first sight Mancrosai4939 Ransomware might seem like any other ransomware. What is fortunate for the users currently infected with it, is the fact that this devious piece of software does not encrypt data on the affected computer. Such functionality makes malware expert at Spyware-Techie.com believe that this malicious program is still in its developmental stages. Therefore, while this is the case at the moment, you should keep in mind that at any time this ransomware application might start the locking your personal data and that could obviously have devastating outcomes. Instead of encrypting your files, this malicious program blocks your desktop with a full-screen warning message. Due to this, you will not be able to use your PC the way you are used to. The message is nothing more than a scare technique. It falsely informs the affected user that their data is encrypted. It also asks you to pay $50 worth of Bitcoin for a decryption procedure. Additionally it tells that the affected data will be destroyed in four days if you do not make the payment. Under no circumstances submit to these demands; there is no need for a decryption procedure as your personal files are totally fine. It should be more than obvious that you need to delete Mancrosai4939 Ransomware once and for all. To remove its every single bit in a quick and easy manner, make sure to follow the detailed instructions that we present below.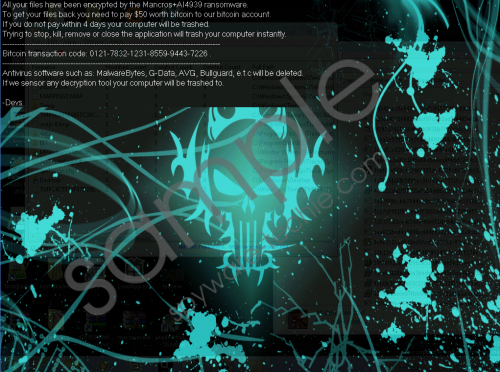 Mancrosai4939 Ransomware screenshot
Scroll down for full removal instructions
If you think of yourself as a security-conscious user, there are a few simple, yet very effective, preventative steps that you must take to have a clean and secure operating system at all times. Like any other ransomware application, Mancrosai4939 Ransomware is often spread via spam e-mail campaigns. Thus, we highly advise you to avoid all questionable e-mail attachments that are sent by unknown sources. It is also important to bypass all unauthorized third-party download websites at all times because they are known to host questionable installers that might be filled with suspicious and even potentially malicious applications. You can dramatically reduce the chances of coming across a devious setup file by simply obtaining your programs from official vendors' websites only. Furthermore, learning as much as possible about any application that you want to have active on your PC before even downloading it could save you from a system infection. That is so because malware developers are infamous for their use of misleading marketing techniques. Finally and most importantly, be sure to install a professional antimalware tool if you do not have one already. Such a tool is crucial because it provides overall system security all times. It also can delete any virtual threat automatically. If you take all these precautionary steps, you will have a fully secure operating system at all times.
Do not hesitate to remove Mancrosai4939 Ransomware if it is already active on your operating system. Make sure to follow the detailed instructions that we present below to terminate this malware in its entirety. It is important to do so because leftovers of this malicious application could act in a suspicious manner. For example, traces of Mancrosai4939 Ransomware might be used to restore it without your knowledge. In other situations, those same traces could be more than enough for this malware to continue its devious functionality. To avoid finding yourself in such a situation make sure to double-check your entire operating system for anything linked to this ransomware program once you are done with the instructions below.
How to remove Mancrosai4939 Ransomware from your PC
Tap Alt+Tab on your keyboard and select Desktop.
Right-click your Task Bar.
Select a malicious task and then click End Process. Keep in mind that the name of this task is randomized.
Open the File Explorer.
Navigate to C:\Users\(your username)\Downloads.
Right-click a malicious .exe file and select Delete. Keep in mind that the name of this file is randomized.
Right-click your Recycle Bin and then select the Empty Recycle Bin option.
In non-techie terms:
If you believe that manual removal is a too complicated task, do not worry. Malware experts working at our internal labs have crafted an alternative removal guide. By following the instructions below, you will be able to delete everything associated with Mancrosai4939 Ransomware automatically.