Do you know what MalwareLion Anti-Malware is?
MalwareLion Anti-Malware is an infection usually recognized as Spyware Clear. This is the name that is presented on the interface of the application; however, the installer name may indicate a completely different program. All in all, MalwareLion Anti-Malware is the alternative name of the disturbing program that we recommend having removed.Therefore, it is most important that you delete it rather than figure out its true name. Do you realize why you should delete MalwareLion Anti-Malware? Our malware analysts have inspected the program in the internal lab and now can state that it is a rogue anti-spyware which requires immediate removal. This program presents fictitious information and promotes highly questionable services just to convince you that you need to purchase its licensed version.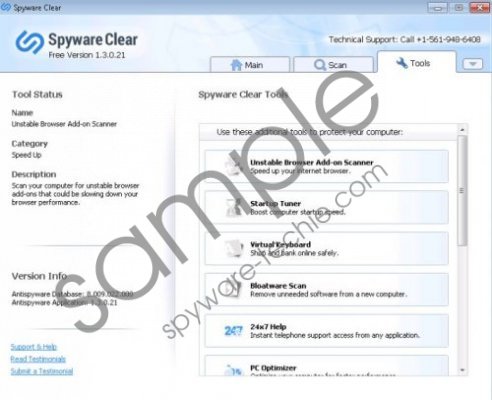 MalwareLion Anti-Malware screenshot
Scroll down for full removal instructions
The program you download from spywareclear.com is just a free trial version of MalwareLion Anti-Malware software. In reality, it is bait used to convince unsuspecting Windows users that they need to purchase a tool which is conveniently discounted to $19.95 for a one-year license. Unfortunately, many choose to purchase the program because they believe that it will delete already running infections, enable a variety of different security tools (e.g., Bloatware Scan or Virtual Keyboard), and will ensure that you do not need to worry about malware removal in the future. These are the features of authentic security tools, and MalwareLion Anti-Malware (or Spyware Clear) is not one of them. This security application is fictitious and cannot even list real threats. Our security experts warn that the MalwareLion Anti-Malware scanner reports are dubious and list empty folders or registry values as real infections. Due to this, you should not trust fake scan reports (see below) and instead delete MalwareLion Anti-Malware from the system.
Spyware Clear has detected
[number of] infections
Remove all infections and avoid future threats by registering a full version of Spyware Clear, just click on "REMOVE INFECTIONS" below.
MalwareLion Anti-Malware is not a regular fake anti-malware. Luckily, it is far less aggressive than Win 7 Antivirus 2014, Windows Pro Defence Kit, Windows Protection Tool, and other fake malware removers which may corrupt the system and leave users no other option than to pay for fake services. MalwareLion Anti-Malware removal is much more straightforward. All you have to do is uninstall Spyware Clear from the PC, and the guides below will help you. Of course, we recommend employing legitimate security software as well. First of all, it will delete remaining threats. Secondly, it will fight off malware that may attack in the future.
Delete MalwareLion Anti-Malware (Spyware Clear)
Delete from Windows 8:
Right-click on the Metro UI screen and choose All apps.
Click Control Panel for more options and select Uninstall a program.
Right-click and Uninstall the application you want to remove.
Delete from Windows Vista/Windows 7:
Move to the left of the Taskbar and click the Windows logo.
Select Control Panel and then move to Uninstall a program.
Find the program you want to delete, right-click it and select Uninstall.
Delete from Windows XP:
Open the Start menu from the Taskbar and click Control Panel.
Double-click Add or Remove Programs and open the Change or Remove Programs list.
Click the entry identifying the undesirable program and select Remove.
In non-techie terms:
MalwareLion Anti-Malware is a rogue which cannot identify malware, delete infections or guard the operating system against them. Truth is that this program is completely worthless, and so you should take care of its removal as soon as possible. Delete the rogue using the instructions above, and then remove remaining infections using automatic malware removal software (see installation guides below).