Do you know what Malabu Ransomware is?
If your files were marked with a .fucked extension you most like came across a recently developed file-encrypting malware called Malabu Ransomware. From what our researchers have learned it looks like the malicious program is after user's private files, for example, photographs, pictures, various documents, and so on. After locking such data, the threat might place a borderless window on top of the screen. The warning might be difficult to close; therefore, if you have no idea how to get rid of this window either, scroll below the main text, and have a look at the removal guide. The instructions prepared by our specialists will also show you how to eliminate Malabu Ransomware manually, although if it appears to be too complicated, we would recommend using a reputable antimalware tool instead. Naturally, before you decide how to erase the infection, we advise you to find out more about it while reading the rest of the article.
Malabu Ransomware could settle in after launching some suspicious file you got together with a suspicious email or downloaded from unreliable websites that could distribute malicious installers, fake updates, etc. Unfortunately, there is still no information about the infections distribution, so we cannot be more accurate. In any case, once the malicious file is downloaded and launched the threat should locate the data it is after and start the encryption process. During it, Malabu Ransomware should lock your private files and as we already mentioned, mark them with a specific second extension. Thus, after unlocking the screen, the user can clearly see which files are no longer accessible. The screen can be unlocked if you press Alt+Tab at the same time.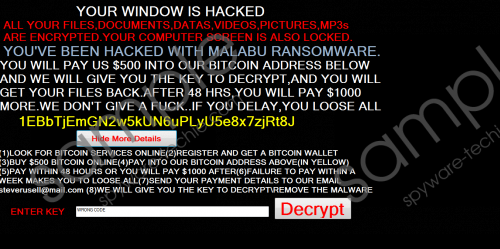 Malabu Ransomware screenshot
Scroll down for full removal instructions
The locked screen may urge users to pay the ransom for $500 in less than 48 hours or prepare to pay double after the given time runs out. Also, the warning says the user has to contact the infections developers through email, but only after they make the payment. Then these hackers claim they "will give you the key to decrypt\remove the malware." Keep it in mind these cyber criminals may tell or promise you anything just to convince you to make the payment, but in reality, you can never know how they will actually act. Five hundred US dollars is not a small price to pay, and if you do not think your data is worth to take such risks, we advise you not to hesitate anymore and eliminate Malabu Ransomware at once.
As it is visible from the removal guide placed below the only way to erase the malware manually is to restart the system in Safe Mode and delete the malicious file you opened before the computer got infected. The instructions show how to restart the computer in Safe Mode with Networking so you could have more options. For example, if the manual deletion appears to be too difficult, you could access the Internet and download a reliable antimalware tool.
Just before following the instructions press the Alt+Tab combination to go to your Desktop. To guard the computer against threats like Malabu Ransomware in the future, you should try not to download any suspicious content from the Internet. In case you do, we recommend having fully updated antimalware software that could warn you about malicious data and protect the system.
Reboot the computer in Safe Mode with Networking
Windows 8/Windows 10
Tap Win+I and click Power.
Click Restart as you press and hold Shift.
Choose Troubleshoot and pick Advanced Options.
Go to Startup Settings and select Restart.
Press F5 and reboot the system.
Windows XP/Windows Vista/Windows 7
Navigate to Start and click Restart after selecting Shutdown options.
Press and hold F8 as soon as the system starts restarting.
Select Safe Mode with Networking.
Press Enter and log on.
Delete data belonging to Malabu Ransomware
Press Win+E.
Go to the folder where the malicious file might have been downloaded, e.g.:
%TEMP%
%USERPROFILE%\desktop
%USERPROFILE%\downloads
Find the infected file belonging to the ransomware.
Right-click this file and pick Delete.
Exit the Explorer.
Then Empty Recycle bin to get rid of it permanently.
In non-techie terms:
Malabu Ransomware is a dangerous threat that may not only do a lot of harm to your data but also stop you from using the computer until you pay the ransom. Needless to say, putting up with any demands is the last thing we would recommend for our readers. Purchasing decryption tools is always risky as there is a possibility you could lose your money for nothing. In other words, the malicious program's creators may not keep up to their promises and take the ransom without providing the promised decryption tools. Instead of risking your money we would advise you to concentrate on the malware's removal so you could use the infected device normally again. Users can try to erase it manually while following the steps provided above, but it might be easier just to install a reputable antimalware tool and let it handle the infection.