Do you know what Magyarország Rendőrség Police Virus is?
Magyarország Rendőrség Police Virus is a ransomware which has been infiltrated onto the PC through the truly surreptitious and clandestine Flimrans Trojan. The treacherous infection can lock down your personal computer without a chance to access the desktop. What would you do if all of your administrative privileges were removed? There is no doubt that you would search for the reason behind this. Unfortunately, the notification presented on the desktop is not what you need to be looking for. If you pay attention to this bogus alert, you may start thinking that your personal system has been locked by the Hungarian Police and that you need to pay the represented fine. In reality, all you have to do is remove Magyarország Rendőrség Police Virus.
The main objective behind the ransomware is to lure out your money, and schemers behind are expecting at least 25.000 forint or 100 Euro. In order to trick you into giving up this sum, you are presented with a bogus alert where it is stated that you are accused of distributing child pornography, sending spam emails and using pirated material. These accusations are bogus and you should pay no attention to them. Here is an excerpt:
Figyelem! A számítógép meg van tiltva legalább az egyik ok miatt az alábbiak közül. […]
A bírság összege HUF 25.000 (Ft) vagy €100. Tudja fizetni a bírságot PaySafeCard vagy Ukash
As research shows, the exact same text is utilized by a number of recently reported ransomware threats, including České Republik Police Virus and Latvijas Valts Policija Virus. It is no secret that these infections have been developed by the same schemers, and the only difference between them is that they are targeted at different countries. It has been discovered that there are tens of different families of dangerous ransomware, some of which are categorized under names Ukash Virus or Police Virus. Unfortunately, this means that Hungarians need to stay alert about other malicious ransomware, for example Police Rendőrség Virus.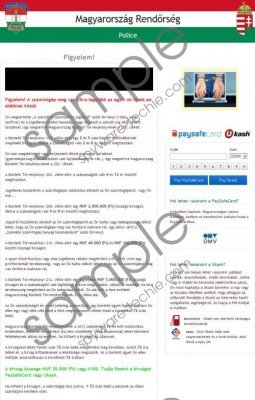 Magyarország Rendőrség Police Virus screenshot
Scroll down for full removal instructions
To delete Police Rendőrség Virus from the computer utilize automatic spyware removal software which could also guard your operating system against future schemers' attacks. Please continue with the following removal instructions to succeed at malware removal.
Police Rendőrség Virus Removal Instructions
Remove from Windows 8:
Tap the Windows key on the keyboard to access the Metro UI start screen.
Move the cursor to the bottom right corner to access the Charm Bar.
Click Settings and then select Change PC Settings.
Now click General, navigate to Advanced Startup and click Start Now.
Select Troubleshoot and click Advanced Options.
Click Startup Settings -> Restart -> F5.
Log into the system, launch a browser and visit http://www.spyware-techie.com/download-sph .
Download and install the automatic spyware removal tool to delete all malicious programs.
Remove from Windows Vista and Windows 7:
Restart the computer.
The moment BIOS loads up – start tapping the F8 key for the advanced boot menu.
Using arrow keys select Safe Mode with Networking and tap Enter.
Immediately download SpyHunter onto the computer.
Install the application, scan the computer and remove found threats.
Remove from Windows XP:
Go back to the removal instructions for Windows Vista/7 users and repeat step 1-3.
If a Desktop notification shows up – click Yes to confirm safe mode.
Open the Start menu, launch RUN, enter msconfig and click OK.
In the System Configuration Utility click the Startup tab, select Disable All and click OK.
Go to http://www.spyware-techie.com/download-sph and download the automatic malware remover.
Restart the computer and install the tool to delete malware.
In non-techie terms:
Magyarország Rendőrség Police Virus is a malicious ransomware with runs alongside the vicious Flimrans Trojan. The clandestine infection may enter your PC and lock it down in order to force you into paying a ransom of 100 Euro. This is not something you should do, as all security issues can be disabled only if you remove the malicious computer threat.
Aliases: Magyarország Police Virus.