Do you know what Magnifier Search is?
This potentially unwanted application is a browser extension that works on Chrome. It may not be your worst cybersecurity nightmare, but you also shouldn't tolerate this application. If Magnifier Search is there on your browser, you will do yourself a favor if you remove it right now. You can follow the manual removal instructions that we have provided at the bottom of this description. Also, it would be a good idea to invest in a licensed security tool that would help you protect your system from various threats in the future.
It is rather common for users to add these extensions accidentally. However, it is important to note that even if you are not aware of the fact that you add Magnifier Search to your browser, you still agree to do so. What's more, this application has an official website and a page at the Chrome Web Store. So, it would be hard to say that the app is a dangerous infection. However, it MIGHT employ certain distribution methods that could be considered potentially fishy. For instance, this app might come bundled with freeware or arrive via pop-ups.
If you tend to download freeware apps from third-party sources, you should refrain from going through the installation process blindly. You should check all the steps in the installation wizard because things like Magnifier Search are often offered in additional steps. Usually, it is possible to deselect the programs you don't want. But users fail to notice those steps, and things like Magnifier Search easily enter their systems.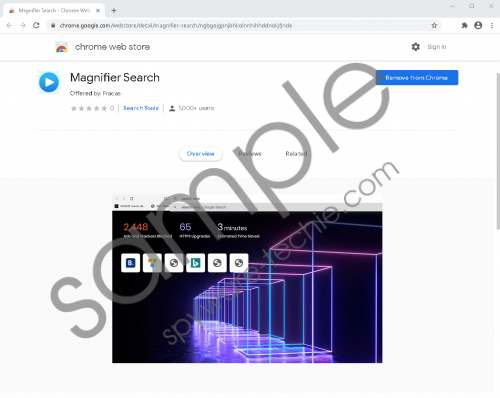 Magnifier Search screenshot
Scroll down for full removal instructions
Also, when you get unwanted programs through pop-ups, you probably don't even notice when you click some buttons through various windows. You might be on some websites that offer free content and clicking anywhere on the site might trigger the pop-up. Some users could think that the pop-up is part of the website, and so, they would click any notification that is on the pop-up, thinking it will enable them to view even more content. Unfortunately, this is also how they give their permission for things like Magnifier Search to modify their browser settings.
As far as we know, when Magnifier Search gets added to the target browser, this extension starts reading your browser's history. It is not much of a trouble because a lot of browser extensions and plug-ins do collect information on your browsing habits. All of that is done with the intention to promote custom commercial content. And that is actually one of the main reasons those extensions are there on your browser.
The official description of Magnifier Search says that "this extension configures your Default Search to Magnifier Search." So, it means that it changes your default search engine, too. It should mean that this application can provide you with some useful search function, but the reality is that it outsources Bing Search results. And here we'd like to ask you something: what's the point of using a third-party app to search via Bing if you can access the search engine directly?
What's more, since Magnifier Search collects information on your browsing history, it can generate custom commercial ads or modified search results, later on. While there's nothing inherently malicious about this, we have to understand that Magnifier Search cannot review the content it brings. In other words, anyone could embed their malicious links into the advertising space offered by Magnifier Search, and even if you were to land on a dangerous website you wouldn't be able to blame the extension for it. After all, you would have clicked the link yourself.
Hence, to avoid that from happening, remove Magnifier Search today. Please follow the guidelines below to restore your browser settings to default. If you have more unwanted extensions add, restoring the settings will delete them, too. However, as far as other potentially unwanted programs are concerned, it would be for the best to scan your system with a licensed security scanner. If you find that there are several potential threats on-board, you can remove them automatically. Also, be sure to avoid websites that could be part of freeware distribution networks. If you see a page that is full of random pop-ups, perhaps you should close it at once.
How to Remove Magnifier Search
Open Chrome and press Alt+F.
Select Settings on the drop-down menu.
Click Advanced at the bottom of the page.
Scroll down and press Restore settings to their original defaults.
Click Reset settings.
In non-techie terms:
Magnifier Search is a browser extension that you probably didn't want to have. If your browser settings were modified by this app, you must have added it accidentally. Luckily, it is rather easy to remove Magnifier Search from your system. But if you don't think that you can do a decent job at it, you can always scan your system with the SpyHunter free scanner to locate all the unwanted apps and files, and then you can terminate them all automatically.