Do you know what Magical Find is?
Magical Find a new application developed by Injekt LLC. You should regard this application as malicious, because it shows unasked-for and intrusive commercial advertisements, and you should remove it for that. This program's ads are largely supplied by third-party advertisers and are prone to be unreliable because of that. There is just no way of knowing if the advertisers are honest or not, because Magical Find's developers are not that concerned with their reputation, so they are happy to sponsor shady entities. Our malware analysts took a look at this program and we want to share their findings with you. So if you have this application, it will be beneficial to know more about it.
As mentioned Magical Find is a product of Injekt LLC, which is an adware developer responsible for hundreds of adware releases over the years. This newest addition joins the ranks of previous releases, such as High Stairs, Wander Burst, Great Find, and other Injekt-based adware programs that are still around and you are likely to encounter them is you are a frequent visitor of freeware sharing websites. Free software hosting websites make money by bundling legitimate software acquired from up-and-coming software developers who want to make a name for themselves. Freeware websites are full of gems, but they get overshadowed by the fact that they are bundled with unreliable software such as adware like Magical Find. Take note that you can opt out the installation of adware after choosing advanced or custom settings. No software installer is the same, so read carefully and you should find this option.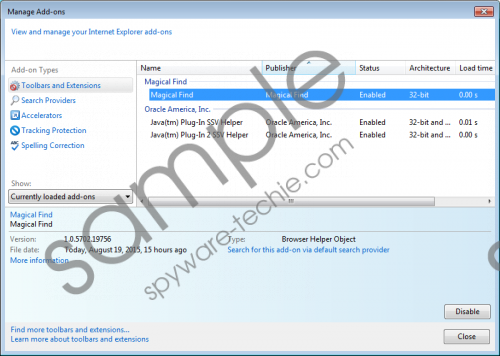 Magical Find screenshot
Scroll down for full removal instructions
Online advertising is a murky business with a lot of unknown entities striving to get a piece of the action. Various freeware websites feature an insane number of adware applications, so you should download software from its original websites whenever possible. In any case, Magical Find displays the most typical forms of online advertisements that come in the form of banners, in-texts, pop-ups, and so on. They are annoying and are bound to get in your way, but most importantly, the ads can redirect you to potentially unreliable websites, so you should avoid clicking them. There is no way of knowing what might be lurking behind an inviting advertisement, so you should not take any chances, given that their origins are unknown.
On top of that, Magical Find is programmed to collect information about you and your browsing activities in order to display targeted advertisements. To be more specific, this program can obtain information, such as technical and related information, IP addresses, browser history, document history, filenames, installed software, software usage, and so on. This information is non-personally identifiable, so it poses no threat to your online identity, but we think that you should not allow a shady company to gather this information to tailor unreliable ads just for you.
All in all, it is clear to see that Magical Find is a plain annoying adware program. It has no purpose other than to hamper your browsing experience with ads provided by third-party advertisers. Even though the information this program collects is not personal, still, you should not provide it to unreliable entities. So we invite you to remove Magical Find if you have it on your computer. The sooner you get rid of it the better, so do not hesitate to take action.
How to manually remove Magical Find via Control Panel
Windows 10
Right-click on the Start menu.
Click Control Panel and go to Uninstall a program.
Identify Magical Find and double-click on it.
Uninstall.
Windows 8 or 8.1
Open the Charm bar and go to Settings.
Open Control Panel.
Select Programs and then Programs and Features.
Identify Magical Find and double-click on it.
Click Uninstall.
Windows Vista or 7
Click Start Menu and open Control Panel.
Select Programs and then Programs and Features.
Identify Magical Find and double-click on it.
Click Uninstall.
Windows XP
Click Start Menu and open Control Panel.
Select Add or Remove Programs.
Identify Magical Find and click Remove.
In non-techie terms:
Magical Find is an adware-type application that is set to display unreliable commercial advertisements while you browse the web. We recommend that you remove this application, because it might promote misleading and even dangerous content. Furthermore, Magical Find has the ability to gather information about your browsing habits and tailor ads to specific users which increase the revenue of those involved. Once again, you should not keep this untrustworthy program.