Do you know what Magic Disk is?
Magic Disk is an application that seems to appear on your computer out of nowhere. Whenever users encounter such programs, they tend to think that they have been infected with malware. However, this application in particular is not a malicious infection. It is a potentially unwanted program. It means that Magic Disk was not installed on your computer surreptitiously. You must have accidentally allowed the program to be installed, and that happens quite often. The good news is that you can remove Magic Disk from your system without much difficulty, and we will show you how to do it.
Potentially unwanted programs often get distributed in software packages. Users tend to download software packages from file-sharing websites without realizing it. This happens because third-party installers tend to avoid disclosing information about additional programs or features that come in one package. On the other hand, they MUST inform you about the additional applications, so this information is usually provided in the installation wizard. In other words, you should be able to avoid installing the likes of Magic Disk if you were to follow the installation steps carefully. Of course, we all know that users tend to breeze through the setup without even bothering to read everything, and that is probably one of the main reasons Magic Disk and other similar programs manage to find new home.
What's more, Magic Disk is there running on your system, you would do yourself a favor if you were to run a full system scan with a licensed antispyware tool. Since these programs usually come in bundles, there is a good chance that you have several other unwanted applications on-board. Hence, you need to check your computer for other undesirable intruders. If you find any, please be sure to remove them at once.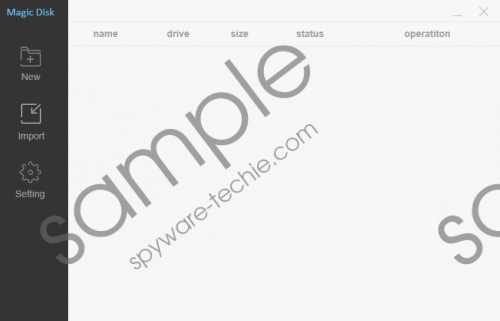 Magic Disk screenshot
Scroll down for full removal instructions
It is also rather peculiar as to who would find this application useful. Although, as mentioned, Magic Disk is not a direct computer security threat, it does not seem like the program works properly either. When we tried running the application, it did not work well, and was rather buggy. Our research team says that the program looks suspicious, and even if you try to click all the buttons and open various sections, Magic Disk does not offer you any additional information in its options. So it is not clear what this program is supposed to do in the first place.
Another thing that alarmed us was that the program was digitally signed by Chengdu Cuopu Technology Co., Ltd. This is not a trusted signature in the digital world, and there is a possibility that this program could engage in some shady activity. As far as we know, the publisher of this program is associated with such potentially unwanted programs like Mobogiene, so it seems like they do have a history of pushing through suspicious applications. If that weren't enough, Magic Disk might also be used to collect your data that could later on be used for online marketing purposes.
Here you might ask again, whether Magic Disk is a security threat, seeing that it could share your personally non-identifiable information with third parties. Incidentally, this feature is not enough to make the application a malicious threat. However, it is enough to push it into the Annoying and Intrusive section, and it is clear that you should not tolerate this program any longer. If you do not remove Magic Disk immediately, you might end up getting redirected to various websites that promote third-party commercial links. From there, you would be entirely on your own because Magic Disk is not responsible for the third-party content security.
You can easily delete Magic Disk via your Control Panel. It is not clear whether removal through Control Panel leaves leftover files, but you can always check that with the SpyHunter free scanner. After the manual removal, you should also scan for other unwanted applications (as we have already mentioned above). And finally, to protect yourself from similar intruders, you should seriously consider acquiring a powerful antispyware tool. It would safeguard your computer from unwanted applications. Yet, do not forget that your web browsing habits are just as important, and if you are not careful enough, similar programs could visit you again.
How to Delete Magic Disk
Windows 10 & Windows 8.1
Press Win+R and the Run prompt will open.
Type Control Panel into the Open box and click OK.
Go to Uninstall a program and remove mgdisk.
Windows Vista & Windows 7
Open the Start menu and select Control Panel.
Click Uninstall a program and remove mgdisk.
Windows XP
Open the Start menu and navigate to Control Panel.
Select Add or remove programs and uninstall mgdisk.
In non-techie terms:
Magic Disk is one of the many programs out there that do not live up to their promises. In fact, we do not even know what kinds of things it promises because we have not seen its official homepage, and it is very likely that it does not have one. So there is no need to keep a program that does not deliver, especially as it is suspicious and intrusive. Remove Magic Disk today, and then look for other unwanted apps that might have slithered into your system along with this annoying program. For any questions, please do not hesitate to leave us a comment. Our team is always ready to assist you.