Do you know what Magic-Bar is?
If you notice that your Google Chrome browser has a colored background upon opening, it is quite possible that Magic-Bar extension has managed to crawl onto your system under questionable circumstances; well, unless you have installed this useless browser extension on purpose. This extension has nothing magical about it apart from the possibility that it may show up in your browser without your knowledge or remembering installing it. Of course, this tool does have more to offer than just a changeable background color for your Chrome browser; it also displays a toolbar with basic information as well as provides you with a search engine. Our researchers concluded that this is yet another potentially unwanted program (PUP) created by Via Advertising Group Limited who also released play-bar.net and play-bar.net, which are virtually identical clones. Since this questionable PUP can slither onto your system along with malicious software installers, it is quite likely that this is not even the most severe problem you are facing right now. This is why it is important that after you remove Magic-Bar from your browser, you make sure that you detect and eliminate all other possibly harmful applications as well.
If you find this PUP in your browser, chances are you clicked on the wrong content while surfing the net. There are basically two ways to install such a PUP when it comes to shady channels. First, you may directly install it and may not even know about it if you click on a fake downloader pop-up. You may see such a third-party pop-up when you land on a suspicious website, for example, torrent and freeware pages, or websites that claim to offer you online TV series and movies to watch. This pop-up can tell you that your Adobe Flash driver needs to be updated or you need a special application to be able to play a video or other content on the page. A lot of users fall for this and click on this pop-up only to download such a PUP or even worse threats for that matter.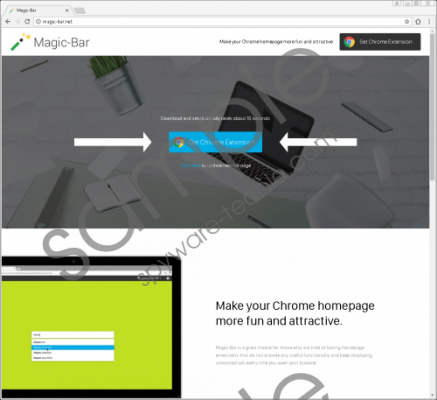 Magic-Bar screenshot
Scroll down for full removal instructions
Second, it is clearly the worse case when you download a whole bundle of PUPs and malicious threats, and this also starts with a click on the wrong content. This is why you should stay away from suspicious websites and clicking on third-party advertisements. This already could save you a lot of unnecessary headaches. However, you could also be introduced to such unsafe third-party content when your PC is infected with malware like adware. Such an infection can spy on you and flood you with all kinds of ads that may related to you, thus luring you to click. But once you click on a corrupt ad, you could drop PUPs like this one or a bundle of unwanted surprises, or you could be redirected to a dangerous fake website operated by cyber criminals. All in all, it is essential that you check out your PC by running a reliable malware scanner after you delete Magic-Bar.
Of course, this tool also has official presence on the net. It has a promotional page at magic-bar.net, where you will fail to install this PUP, and the Chrome web store at chrome.google.com/webstore/detail/magic-bar/kjboejmbgkediploadlbcfcckbcfnphf, where you will realize that only two users have considered this tool to be worth downloading in the past year. You should keep in mind that this web store may host potentially unwanted and harmful extensions until these get reported and finally blocked. Do not take anything for granted what you find there. It is always worth running a quick web search to find out about the reliability of your targeted tool.
This questionable browser extension sets "chrome-extension://kjboejmbgkediploadlbcfcckbcfnphf/newtab.html" as your home page and new tab page as well. Although, it may seem fun that you can change the background color of your browser and you could have the time and local weather forecast information on a toolbar, let alone a search box in the middle of the page, but you should think twice before actually using this tool. This PUP may collect information about you so that customized content can be displayed. The problem with such content is that when cyber crooks start to exploit this tool, they can deceive you and lure you onto their malicious pages very easily. This extension may also alter the search results, which are provided by Google to make it all look trustworthy. Unfortunately, the results on those pages could contain questionable ads and links. Clicking on one that may come from a questionable third party could have serious consequences, such as you could download malicious threats without knowing and you might also end up scammed on a fake website. This is why we believe that it is important that you remove Magic-Bar from your browser.
You may consider yourself lucky since you can get rid of this PUP very simply. Please use our guide below as a reference if you are not familiar with extension removal. Keep in mind though that eliminating this PUP alone may not make your system all secure and healthy; it may take more than that. It is more likely that there are other threats as well, and probably more serious ones than this one. Therefore, we suggest that you download and install a trustworthy anti-malware program like SpyHunter so that you can automatically defend your PC against all kinds of possible threats.
How to remove Magic-Bar from your browser
Google Chrome
Press Alt+F.
Select More tools and then, choose Extensions.
Locate the unwanted extension and click on the Trash can icon.
In the pop-up, click Remove.
In non-techie terms:
Magic-Bar is no magic at all, in fact, it is a rather useless browser extension for your Google Chrome browser that might pose a threat to your system security. Our researchers have classified this tool as a potentially unwanted program because it does not mean direct danger to your computer. Still, it is possible that this PUP present to you potentially unreliable third-party content in the form of third-party ads and sponsored links either on its search page or the search results page, which is, by the way, a possibly modified Google search results page. This tool may enter your system in a freeware bundle packed with malware infections; therefore, it is quite likely that your PC is vulnerable right now and you could be exposed to malicious third-party content whenever you go browsing the web. This is why we suggest that you remove Magic-Bar as soon as possible. If you would like to keep your computer clean, we advise you to start using a professional anti-malware program.