Do you know what Madbit Ransomware is?
Madbit Ransomware is a nasty malicious application that has been designed to lock files when it successfully enters users' computers. Like similar ransomware-type infections, it uses a secure cipher to leave no chance for users to unlock their files without a special decryptor tool. Ransomware infections usually target files that are considered the most valuable, for example, documents, pictures, videos, music, and a bunch of other files because they are used as tools to obtain money from users easier. Consequently, if Madbit Ransomware ever successfully slithers onto your computer and encrypts files, you will also be asked to make a payment in exchange for the special tool that can unlock files. You should not do this even if it turns out that the size of the ransom it asks is quite small and you can afford this tool. Specialists do not recommend purchasing it because it is unclear whether this tool will help to unlock these encrypted files. Additionally, you will encourage malware developers to release more threats for obtaining more money by paying the ransom. No matter what your final decision is, do not forget to erase Madbit Ransomware from your computer because it creates a Value in the Run registry key so that it could start working together with the Windows OS. Consequently, it will stay active and might cause more problems to you. In the worst-case scenario, it might encrypt more files on your computer.
Ransomware infections are one of the most harmful threats because their entrance usually results in the loss of personal files. Madbit Ransomware locks users' files right away as well. There is a reason it does that – it seeks to extract money from users. Files locked by this infection get the .enc extension appended. Additionally, the ransomware infection opens a window with a ransom note to users. First, users are told that "All databases, sites and users home files have been encrypted." Then, they find out that they can unlock them only with the special decryption tool that can be purchased from cyber criminals behind this infection. The price of the decryptor is not indicated in the ransom note. Users are only told that "the price depends on how fast you write to us." You can send one file to get it decrypted for free ("Before paying you can send to us up to 1 files for free decryption"), but you should definitely not pay money for the decryption of the remaining files even if you get the sent file decrypted for free. First, you do not know whether you will be given this tool. Cyber crooks can make up their minds after they receive your money and thus do not give it to you. You do not even need the decryptor if you have copies if your files – you could restore the encrypted data from your backup easily after you eliminate Madbit Ransomware.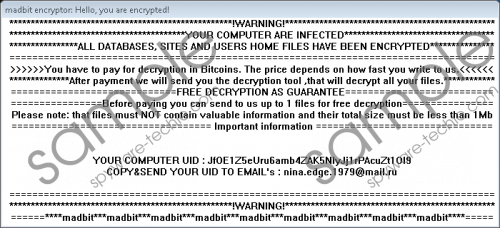 Madbit Ransomware screenshot
Scroll down for full removal instructions
Research conducted by our IT guys has shown that Madbit Ransomware is distributed together with Zeitcoin, which is promoted as the cryptocurrency miner. It means that you could have allowed the ransomware infection to enter the system yourself by installing the aforementioned miner on your computer. Theoretically, there might be other ways how this threat is distributed. For instance, it might be also spread via spam emails as a malicious attachment. Ransomware infections are quite sneaky threats and can slither onto computers unnoticed, but it does not mean that users can do nothing to prevent them from entering their systems. Our security specialists recommend doing the one and only thing – installing a powerful antimalware tool on the system.
Madbit Ransomware must be erased from the system as soon as possible so that it would not have a chance to lock more files on your computer. There is not much you need to do to disable it. First, delete the malicious file that belongs to the ransomware infection. Second, remove the malicious Value that representing this infection from the Run registry key. Below-provided instructions will help you.
Remove Madbit Ransomware
Close the window opened by the ransomware infection (right-click on its icon in the Taskbar and click Close window).
Press Win+R.
Type regedit.exe in the box and click OK.
Move to HKEY_LOCAL_MACHINE\SOFTWARE\Wow6432Node\Microsoft\Windows\CurrentVersion\Run.
Right-click the madbit Value and select Delete.
Close Registry Editor and open Explorer.
Go to %TEMP%\RarSFX0.
Delete WindowsProcessor.exe from this folder.
Empty Recycle bin.
In non-techie terms:
Madbit Ransomware is a harmful malicious application that will slither onto your computer without your knowledge. Although users usually do not know much about its entrance, it does not take long to find out about its presence because it becomes clear soon that all files are encrypted. Also, users notice a window with a ransom note on Desktop. If you have already encountered this ransomware infection, do not even think about paying money to crooks. Instead, go to remove this threat from your computer immediately so that it could not cause more harm.