Do you know what LyricStar is?
LyricStart is a browser add-on which allows you to view the lyrics of the songs on YouTube, and which is categorized as adware. The application is available at lyricStar.co and works on Internet Explorer, Google Chrome, and Mozilla Firefox. The official website is identical to the website promoting LyriXeeker, which implies that the developers of the adware program has changed the name of the program so that it is not detected by anti-virus programs. We recommend that you remove LyricStart from the browser, so keep in reading to find out what you should do next.
Do not delay the removal of the unwanted program because it can hamper your browsing sessions by providing you with various advertisements. Keep in mind that LyricStar is ad-supported, and all the ads that are displayed by this application are not controlled by the developers of the program. It means that you may find deceitful advertisements taking you to insecure websites. The third-party advertisements can be provided in various forms. You may find web-banners, pop-ups, pop-unders, coupons, and some in-line texts. Even a legitimate website can be hacked in order to distribute malicious programs or redirect to other spammy websites, which is why you should avoid clicking on LyricStar ads or the so-called commercial offers.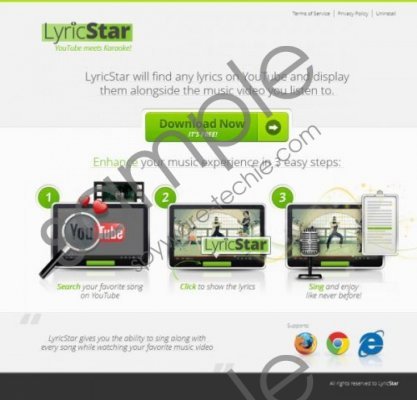 LyricStar screenshot
Scroll down for full removal instructions
The browser add-on can also record non-personally identifiable information, such as your browsing history. All the information that is collected by the application is said to be used for statistic purposes, but it is also possible that it may be used for advertising purposes, for example, for providing you with targeted ads.
As manual removal may be insufficient, we recommend that you install SpyHunter. The anti-spyware program will delete the unwanted adware program and safeguard the system against various computer threats. You will browse the Internet safely and also save your time, so do not hesitate and implement the recommended tool.
If you are determined to remove LyricStar manually, try the following instructions. Keep in mind that if you manage to uninstall the program, some unwanted ads might still be displayed, which is why you should implement the scanner available below to find out what unwanted files has to be removed from the system.
How to uninstall LyricStar
Windows Vista and Windows 7
Open the Start menu and click Control Panel.
Select Uninstall a program.
Remove LyricStar.
Windows XP
Click Start and select Control Panel.
Click Add or Remove Programs and uninstall the unwanted application.
Windows 8
Press Win+R and type in control panel.
Click OK and click Uninstall a program.
Remove the unwanted application.
In non-techie terms:
LyricStar is a free browser add-on which displays song lyrics next to a YouTube video. The application is classified as adware because of different types of advertisements that are displayed. In order to remove the program, implement a powerful spyware removal tool recommended above.
Aliases: Lyric Star add on.