Do you know what LyricsPack ads are?
LyricsPack is a browser add-on which is an ad-supported program that displays song lyrics on YouTube. When LyricsPack ads are displayed, they should be either ignored or closed, depending on how they are presented to you. The application is available at lyricspak.co, which is identical to the websites promoting LyriXeeker, LyricsSing, and LyricStart. Apparently, the developers of this application seek to install the program on as many computers as possible, so the name is changed from time to time so that the anti-virus programs do not detect the program. LyriXeeker and other programs mentioned above are already flagged as adware because of the ads that the application displays, so if you have just installed LyricsPack, we recommend that you remove it from the browsers.
LyricsPack does is not associate with the services, products, or surveys that are promoted by LyricsPack ads. The websites that are you access through LyricsPack have their own privacy policy, so you interact on those websites at your own risk. If you do not know the provider of the service or the seller, do not make any transaction and do not download unknown computer application. If the computer becomes infected or you lose your personal information, LyricsPack will not help you to resolve the issue.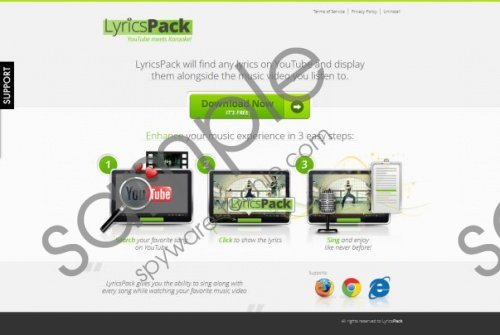 Lyricspack Ads screenshot
Scroll down for full removal instructions
LyricsPack ads may be provided by a variety of third-party advertising services. They may be provided by Superfish, Jollowallet, Alerta Descontos, GetDeal, and many others. Not only can LyricsPack collect information about your habits, but also those third-party services. The information is usually collected for advertising or marketing purposes, which means that it is done for providing you with customized advertisements. Such program as LyricsPack does not seek to reveal your identity, but there is always some risk that your identity may be disclosed, which is why you should not delay the removal of LyricsPack ads.
Even though it is possible to uninstall LyricsPack, it does not mean that every single component of the application will be removed from the system. Hence, we recommend that you implement SpyHunter in order to have the adware program removed and the system protected. You will not have to worry about the dangers on the Internet beause the recommended anti-spyware program can effective safeguard the system against various computer threats.
How to remove LyricsPack
Windows Vista and Windows 7
Open the Start menu.
Click Control Panel.
Select Uninstall a program.
Uninstall LyricsPack.
Windows XP
Open the Start menu.
Click Control Panel.
Click Add or Remove Programs.
Remove the unwanted program.
Windows 8
Press Win+R and type in control panel.
Click OK.
Click Uninstall a program and remove the unwanted program.
In non-techie terms:
LyricsPack is a browser add-on which works on Internet Explorer, Google Chrome, and Mozilla Firefox so that you can sing karaoke on YouTube. The application is categorized as adware, and we recommend that you remove it from the computer to browse the Internet safely.
Aliases: Lyrics Pack.