Do you know what LuDaShi is?
A program that goes by the name of LuDaShi is a legitimate system optimization tool that also provides security and gaming opportunities right within it. The application is mainly targeted to users who are fluent in the Chinese language; thus, it is not surprising that it is mostly active in that particular region. The questionable thing about this tool is the fact that quite a few Internet users who are not located there find this tool fully active on their PC. If you are one of these users, we highly advise you to check your operating system for potentially unwanted programs as they could have come along with the application in question. In this report, we provide detailed information about the overall functionality of LuDaShi along with a removal guide for users that wish to get rid of it since it does not serve them in any actually beneficial way.
While executing the analysis malware experts at Spyware-Techie.com have come to a conclusion that LuDaShi can be considered trustworthy since its scan results are accurate. Also, the optimization procedure as a whole seems sound. Unfortunately, it is extremely difficult to navigate your way around if you can't read Chinese since the whole user interface is mapped out using this exact language. Even though all of these features could come in handy something questionable has been noticed about this tool. The main concern that our research team has with LuDaShi is the fact that it presents third-party advertisements, especially if you choose to use it for playing flashed based games. While no ads were found hosting redirect links to harmful web content, we still advise you to stay away from them as malware developers and other cyber crooks could capitalize on this issue. There is a possibility that they could buy advertisement spots within this optimization tool and implement a seemingly harmless pop-up or ad with a redirect link, leading to their potentially dangerous web page. If you do not find any LuDaShi useful due to language barrier or do not wish to even risk coming across questionable web content, you can simply follow the instructions that we present below to get rid of it in just a few simple steps.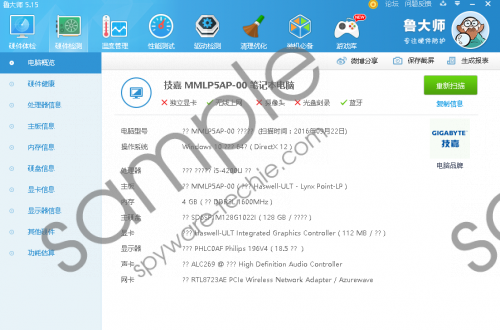 LuDaShi screenshot
Scroll down for full removal instructions
As mentioned earlier, usually users located outside of China find LuDaShi running on their PC even though they did not install it themselves. This is an indication that the program might be distributed via bundled installers without the vendor's consent. Thus, if you did not acquire this optimization tool yourself, you need to check your computer for other suspicious software. To protect your PC from being infected in such a manner, make sure to practice safe browsing habits. Most importantly, be sure to avoid all questionable third-party download sites. This is critical since they are the primary source of setup files embedded with questionable applications. Also, always make sure to read everything while installing any program as you could be presented with an opportunity to cancel the installation of an application that you do not wish to have active on your operating system. Rushing through a setup could have unwanted outcomes as you yourself could allow an installation of a devious program to take place. Of course, your best bet to keep your personal computer secure is by having an active malware detection and removal tool on your PC at all times. This is paramount to your virtual security since such a tool can stop any devious program from entering your PC in an automatic way.
If you wish to terminate LuDaShi as you find not good use for it, simply use the removal guide that we present below. Keep in mind that a removal procedure should be performed with care as a single step could result in an incomplete removal. This should be avoided as leftovers from different programs could pile up and prove to be the main cause your computer's performance is significantly slowing down. You can avoid finding yourself in such a situation by double-checking your whole operating system for potential leftovers linked to LuDaShi after you are done with the manual removal. This way you will be sure that the termination of this optimization tool has been successful.
How to remove LuDaShi from your PC
Windows 10
Right-click the Windows button.
Select Control Panel.
Click Uninstall a program.
Select the unwanted program and click the Uninstall button.
Windows 8 and 8.1
Right-click your Task Bar.
Select Control Panel and click Uninstall a program.
Right-click the unwanted program.
Select the Uninstall option.
Windows 7
Click the Windows button.
Select Control Panel and click Uninstall a program.
Double-click the malicious application.
Confirm that you want to remove it.
Windows XP
Tap the Windows key on your keyboard.
Select Control Panel.
Select the Add or remove programs option.
Right-click the undesirable program and select Remove.
In non-techie terms:
If you are not computer savvy and do not feel good performing the manual removal on your own, do not worry. Our research team has crafted alternative instructions. By following the guide that we present below you will be able to delete LuDaShi automatically.