Do you know what LuckyBrowse is?
If you look for ways to enhance your Internet experience, LuckyBrowse may seem like a solution to you. Just imagine what the program promises you: interesting deals, comparison shopping, social media apps, and the list goes on and on… But there is nothing new under the sun. We have seen similar promises before and can state that LuckyBrowse is just an adware application. It has probably tricked you to enter your system and should be removed before it is too late.
We have tested LuckyBrowse in our internal laboratory and found how irritating it can be. In addition, this program acts in an unpredictable manner. You will encounter countless advertisements when you expect them the least. That is because LuckyBrowse displays those ads no matter which webpage you are currently browsing. Just imagine that you want to order something from an online store such as Amazon, and your entire screen is covered in ads. You closed them one by one only to find that you will have to do that again. Does not seem like a perfect way to spend your time, does it?
It seems logical that you may decide to try clicking on some ads. However, it was curiosity that killed the cat. Some ads provided by LuckyBrowse may redirect you to third-party websites in case you click on them. The list of possible dangers you may face would fill up a book on the subject, so let us name just a few here. Those websites could be created to distribute viruses. Or you can find yourself on a fake online gambling webpage that will offer you free money. Lines like "Just enter your credit card number and we will transfer some funds into your account" may entice you. However, it is needless to say that you will receive nothing, differently from a criminal who will gain access to your credit card information. What's more, if something really dreadful happens, creators of LuckyBrowse will wash their hands of the matter. The End User License Agreement states that the company bears no responsibility for any third-party content and that you interact with third parties at your own risk. However, you do not need to panic yet. There is an easy and simple decision to prevent these things. Just remove LuckyBrowse from your device.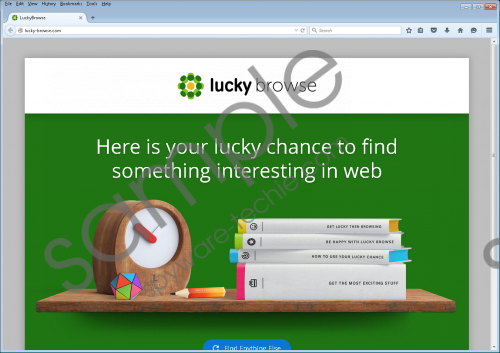 LuckyBrowse screenshot
Scroll down for full removal instructions
You can delete the program by following our guide. But do not relax too early. At the moment of our research, it was impossible to download LuckyBrowse from any official site. So, the adware application has found a way how to sneak onto your computer, and this way is quite the usual for such type of programs: they often come in bundles. Moreover, it usually comes bundled with software you download from untrustworthy websites. This means that some suspicious and probably even malicious programs are also on your system. In order to get rid of them, you will need a reliable defensive tool. No one will care about your security without you making the first step.
How to get rid of LuckyBrowse
Click the Windows icon in the lower left corner of your screen.
Open My Computer (This PC in case you use Windows 8 or 8.1).
Open Local Disk (C:).
Open Program Files (x86).
Remove the folder named LuckyBrowse and confirm your decision.
In non-techie terms:
LuckyBrowse is an application that promises you will find something interesting on the Internet by using it. But in reality the program acts in a disturbing way. Irritating advertisements in the form of banners, coupons and pop-ups will make it impossible to browse in a way you did before. Moreover, the presence of LuckyBrowse on your system means that most likely more unwanted programs have found a way onto your computer. All of them, including this adware application, should be eliminated.