Do you know what Lucid Movies is?
If you think that a program called Lucid Movies will help you stream various movies for free, you must know that this is not the case whatsoever. Unfortunately, quite a few users are fooled into obtaining this suspicious piece of software due to deceiving marketing techniques used by the vendors of it. In reality, this program is just one more adware program that you should avoid at all times since it does not exhibit any valuable features. In fact, this ad-supported program will only interfere with your daily browsing activities, making your overall online experience a miserable one, to say the least. Also, it has been found out that this adware program could not only mess with your online actives but could turn out to be the reason other dubious programs are able to enter your operating system without much trouble. It is not surprising that malware experts at Spyware-Techie.com strongly advise you to remove Lucid Movies as soon as it is found up and running on your computer. Do so by using a comprehensive removal guide that we provide below.
Lucid Movies will implement its files and registry entries as soon as it gains full access to your operating system. It has to be noted that the adware program in question does not perform in the way that it should. On its official website, this program is advertised as a tool that should provide you with a huge library of movies that you should be able to stream for free. In reality, this invasive application does very little to help you find your favorite movies or series online; the same goes for streaming them. What it does is provide users with is an unusual amount of unwanted third-party web content, which in most cases manifests itself as invasive ads, worthless coupons, and annoying pop-ups. Such activity is possible since this adware application connects to adware servers, which are the primary source of that unwanted web content. At times, this ad-supported program could flood your web browser with such content so much that surfing the web could become virtually impossible. Unfortunately, such activity cannot be predicted since this adware establishes connections to those adware servers in a random way. To surf the way you are used you must delete Lucid Movies. If you fail to do so, the intrusive web content will continue to make your online experience and annoying and frustrating on, to say the least.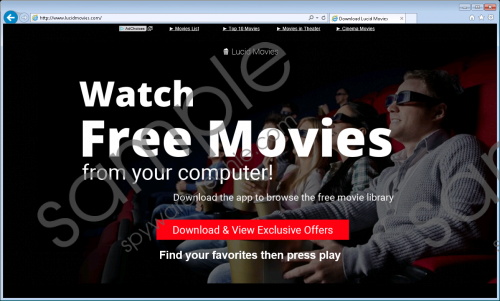 Lucid Movies screenshot
Scroll down for full removal instructions
If that was not enough, our research team has found out that in some cases this adware program could work in a rather malicious way. This is so because some of the ad, coupons, or pop-ups could turn out to be embedded with redirect links. This means that you could end up on the suspicious or even malicious website just by clicking on a seemingly harmless ad or pop-up. This is not at all surprising since it is widely known that adware servers are associated with malware distributions. Thus, if, unfortunately, you happen to already have this program active on your computer make sure to avoid any commercial ads and pop-ups that it might present you with; otherwise you risk exposing your operating system to potentially dangerous web content. For example, you could end up on a website that might be running an arbitrary code execution exploit. Landing on such a website could turn out to be more than enough to infect your computer with some unknown malware. It goes without saying that such potentially malicious instance could have disastrous outcomes, to say the least. Thus, it should be more than obvious that the complete removal of Lucid Movies is imperative to your overall system security. Do not hesitate and do so by following the instructions that we provide below.
The removal of Lucid Movies should be executed without any second thoughts. It is especially important to check your PC for potential leftovers associated with this adware once you are done with the removal instructions. This is critical since at times this ad-supported program could use just a few leftover files or registry entries to silently restore itself.
How to remove Lucid Movies from your computer
Windows 10
Right-click the Windows button.
Select Control Panel.
Click Uninstall a program.
Locate and select the unwanted program.
Click the Uninstall button.
Windows 8 and 8.1
Right-click your Task Bar.
Select Control Panel.
Click Uninstall a program.
Double-click Lucid Movies.
Confirm that you want to remove it.
Windows 7
Click the Windows button and select Control Panel.
Click Uninstall a program.
Select Lucid Movies and click the Uninstall option.
Windows XP
Click Start and select Control Panel.
Select the Add or remove programs option.
Select the unwanted adware program.
Click the Remove button.
In non-techie terms:
The complete removal of Lucid Movies is paramount and should not be delayed. If you are having trouble with the manual removal and analysis of your computer, do not worry. Malware experts at our internal labs have crafted an alternative removal guide that we provide below. By following these instructions you will be able to delete this adware in an automatic way.