Do you know what Lookineo.com is?
Lookineo.com is a search engine created by Development Media 73, and it is most likely to become your home page and default search engine if you install software developed by the same company. It is possible that you are offered to make these browser setting changes; however, our researchers have found that this tool might also emerge without your consent or knowledge. That is why it has been labeled as a browser hijacker. Although it is a French hijacker, do not think it can only infect French computer users. Just like most of the browser hijackers, Lookineo.com may also present you with potentially unsafe third-party web content. What's more, it is also a possibility that it does not come alone on-board. Therefore, we believe that you would be better off without it. If you do not want to expose yourself or your computer to potential cyber criminals, you should delete Lookineo.com right now.
This search engine is not a new invention. As a matter of fact, our researchers have discovered that Lookineo.com is a clone of Secure-surf.com and Explorary.com, but there are even more clones out there on the web. Once this hijacker activates itself, it changes your browser settings. However, it seems that it may behave differently depending on your browser. It will become your home page and default search engine in Internet Explorer and Mozilla Firefox. This hijacker also installs a useless toolbar in these browsers. However, it only sets itself as a search provider in Google Chrome.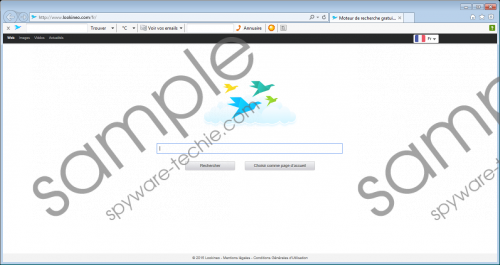 Lookineo.com screenshot
Scroll down for full removal instructions
The biggest problem with browser hijackers is that they may introduce you to unreliable websites through third-party ads and links. Either through the toolbar or modified search results, this search engine may display ads and links that might be dangerous for you to click on. If you get redirected to a malicious website, you may easily infect your computer even more. But it is also a possibility that you will find yourself on a fake online shopping site. While you think that you are just buying a product you want at the best available price, you may get surprised when instead of getting your product you only get a bank statement about the transaction. You can imagine what may happen if criminals get hold of your banking details. Most probably they will not only charge you for the imaginary product you think you are buying. Therefore, it is important to remove Lookineo.com in order to secure your computer.
Since there is no promotional website for this tool, it may be distributed in free software packages. Based on our experience with malware infections, we believe that this hijacker may not be the only threat in the bundle it is spread in. So, if you find this search engine in your browsers, you should assume that there may also be other malware threats on your computer. Therefore, do not think that your PC will be all secure if you only delete Lookineo.com. It is advisable to run a system scan to see what else may be threatening your operating system and your files.
This browser hijacker does not have an uninstaller; therefore, you cannot simply remove it via Control Panel. But it does not mean that it is too complicated either. What you need to do is reset all your browsers, and that will take care of all the extensions and changes. It is possible that you are not familiar with the necessary steps, so please follow our instructions below this article. If you care about the safety of your computer, we also advise you to install a reliable security application that would protect your system from similar malware invasions.
Lookineo.com Removal from your browsers
Internet Explorer
Press Alt+T and go to Internet Options.
On the Advanced tab, click Reset.
Mark the Delete personal settings checkbox
Click Reset and click Close.
Google Chrome
Press Alt+F and navigate to Settings.
Scroll down and click Show advanced settings.
At the bottom of the page, click Reset settings.
Press Reset.
Mozilla Firefox
Press Alt+H and open Troubleshooting Information.
Press Refresh Firefox and press Refresh Firefox again.
Press Finish.
In non-techie terms:
Lookineo.com is a French browser hijacker that mainly shows up on your computer when you install some software developed by the same company. This is an unreliable search tool that you should not use if you want to keep your PC secure. As a matter of fact, it might not even enter your system alone. Therefore, we recommend that you remove Lookineo.com and all other possibly related threats as well. This could be a difficult task if you are not an experienced user. That is why we suggest that you use a trustworthy malware removal tool.