Do you know what LockerGoga Ransomware is?
LockerGoga Ransomware is the threat that adds ".locked" to the files it encrypts. What does that mean? When a file is encrypted, its data is changed to ensure that it can be read only if a decryptor is applied. The added extension does not have a deep meaning behind it, and it is simply attached to the files to make it easy for victims to understand the scale of the attack. The goal is to make the victim obey the demands and follow the instructions that are introduced to them after the files are encrypted. If you have not been exposed to the threat yet, you want to make sure that you do whatever it takes to protect yourself against it. If you have found out that the threat got in, you probably need information regarding your files and their decryption, and you also want to learn how to delete LockerGoga Ransomware. When it comes to decryption, we cannot help much, but we can certainly help remove the infection.
Hopefully, you know where the malicious LockerGoga Ransomware was dropped, because that would make the manual removal of this threat much much easier. Unfortunately, the launcher .exe file is not the only component that allows the threat to run. It was found that after initial execution, a copy is created in %TEMP%, and it is named "svch0st.[numbers].exe." If you can identify these files, you want to delete them both right away. Of course, that will not restore your personal files, but you will have one part of the problem taken care of. You want to get rid of LockerGoga Ransomware because it is controlled by cyber criminals who want nothing but to make your life miserable. After encrypting files, they create a file named "README-NOW.txt" and introduce you to ridiculous demands. Paying attention to them can be very dangerous, and so you want to be smart about what you do.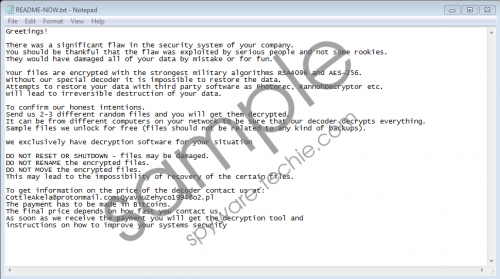 LockerGoga Ransomware screenshot
Scroll down for full removal instructions
The .TXT file created by LockerGoga Ransomware informs that a significant security flaw has allowed the malicious threat to slither in, and that is the truth. If your system was protected reliably, you would not need to worry about the infection or your files' future right now. According to the message, all of your personal files were encrypted using RSA4096 and AES-256 keys, and now you need "decryption software" that, allegedly, can reverse the damage. It is mentioned that money (in crypto-currency Bitcoin) must be paid for this software, but no further information is offered, and cyber criminals want you to email them at CottleAkela@protonmail.com or QyavauZehyco1994@o2.pl to get more information. Doing that is a risk that we do not recommend taking because you do not want LockerGoga Ransomware creators learning your email address and you do not want to pay the ransom that they will request because a decryptor will not be given to you in return.
You have to decide whether you want to remove LockerGoga Ransomware manually or you need help. In the latter case, you need to make sure that you install an anti-malware program you can trust. It will examine your operating system, remove existing malware, and reinforce reliable protection against all kinds of threats in the future. If you decide that you want to delete LockerGoga Ransomware manually, you have to make sure you act carefully. The instructions below show how to erase some of the files created by this threat, but the location and name of the original launcher file are unknown, and you will need to find them yourself. Overall, regardless of the method you choose, you will not recover your files, and so we hope that they exist on external drives or on virtual clouds as backup.
Delete LockerGoga Ransomware
Find the [unknown name].exe file that launched the infection.
Right-click the file and choose Delete to eliminate it.
Move to the %TEMP% directory (tap Win+E to launch Explorer and enter %temp% into the field at the top to access it).
Right-click and Delete a file named svch0st.[random numbers].exe.
On the Desktop, right-click and Delete all unfamiliar files.
In the Local Drive C:\, right-click and Delete a file named README-NOW.txt.
Empty Recycle Bin to get rid of all of these components.
Install and run a legitimate malware scanner to check if your system is malware-free.
In non-techie terms:
LockerGoga Ransomware is a seriously malicious infection, and once it attacks, there is no turning back. Once the files are encrypted, they cannot be decrypted, and you are likely to recover files only if they are stored in backup. Of course, even if every single file on your system is encrypted, you cannot stay in mourning for long because you have an infection to remove! We recommend deleting LockerGoga Ransomware using an anti-malware program that will automatically find and remove its components and that will also protect your operating system, which is very important if you want to ensure that similar and other kinds of malware do not invade again.